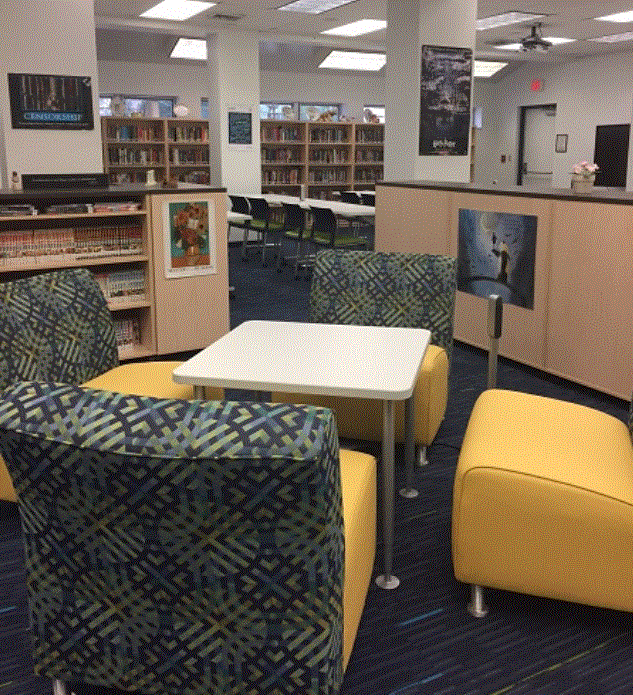 Learning Commons
What is a "Learning Commons"? It's more than just another name for the Media Center/Library - it is a flexible space for everyone where you can read, study, explore, create, collaborate, and learn how to use resources in a variety of formats and styles.

BUILDING 19 LEARNING COMMON HOURS
Monday - Thursday 6:45 a.m. – 6 p.m. Adult/High School Students
Friday 6:45 a.m. – 2 p.m. Adult/High School Students
Students and staff may visit any time during these hours to check out books, read, study, research, collaborate, use the computers, etc.

Some of the resources available to you and your students:


A coin-operated copy machine for student use - .15 per page.
There is no charge for student computer printing (b & w) - up to 30 pages a day for school purposes.
A computer lab with 24 computers; 8 computers are available in the main room.
Two MediaScape lounges which allow 4-6 students to share a large screen and work collaboratively using laptops.
A laptop cart for use in the LC and plenty of charging stations, study and work tables.
Recordex interactive computer/display
A variety of fiction and nonfiction books; a selection of magazines for informational and pleasure reading
A small production room with paper cutter, poster printer, Accucut machine, 2 binding machines.
The large, instructional area in the main room, which is a flexible space with 12 mobile tables that can be arranged in a variety of configurations or removed completely so that a maximum of 60 chairs can be set up, auditorium-style.

Learning Commons Library Guide – Start here for a variety of online resources available to students and staff.
http://browardschools.libguides.com/ATC/mediacenterhome


Click on the Database, Search Engines, and Websites for access to the following:
Destiny: use the Destiny online library catalog to search for books and materials in the ATC Learning Commons.
http://browardschools.libguides.com/ATC/mediacenterhome/ATC/Databases

Gale Cengage Learning: Search for magazine, newspaper and reference book articles; image, audio and video files.
Britannica School Online Encyclopedia: Access to articles, images, videos, websites, primary sources and more!
SIRS – A general reference database of articles, images and primary sources about social, scientific, health, historic, economic, business, political, and global issues

For the home passwords to the databases, refer to the Online Resources Brochure available in the Learning Commons, Building 19.