Have s'more fun with books with the Spring 2017 featured theme!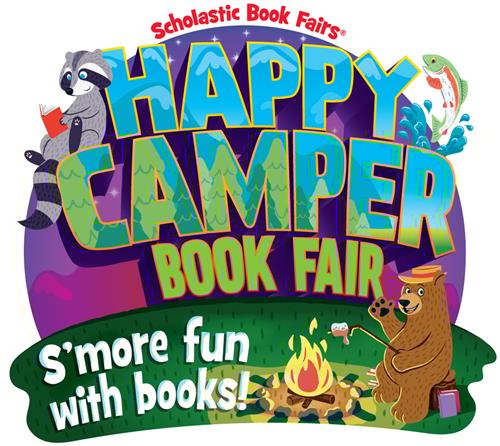 This spring, it's time to head to the great outdoors with the Happy Camper Book Fair: S'more Fun With Books! Pack up your gear and prepare your staff, students, and their parents for a wilderness adventure filled with exciting new books from Scholastic and other popular publishers.

Invite students to take a hike deep into the Book Fair forest by transforming your Fair entrance into a picturesque outdoor scene, complete with trees, mountains, and a night sky filled with stars. Decorate with camping signs, friendly woodland creatures, and even a faux campfire.

Then, bring the fun of the outdoors inside your Fair with exciting activities and adventures! Turn your students into Reading Rangers by making wearable ranger vests out of paper bags and binoculars out of paper tubes. Award badges or stickers to students who complete a student wish list, buy a book, or bring a loved one to a Book Fair event.

For the What Would You Do for Reading?® challenge, ask your principal to camp out overnight at school or become a human s'more! Ask students to vote for their favorite way to camp in an All for Books™ this-versus-that change war. Do they prefer to camp in tents, an RV, or hotel room?
Encourage your school to give a hoot about books! Anyone making a donation to the All for Books program can pull a lollipop or pencil from the All for Books Owl. Although we caution you about feeding the bears, we strongly recommend you feed your teachers. Set up a trail mix bar, bug juice, and everyone's campfire favorite, s'mores and invite them to a Book Fair preview!


The MIRACLE OF SCIENCE presentation consists of 10 Super Cool Science Experiments using Liquid Nitrogen, Dry Ice, and Dramatic Chemical Reactions! It is up to each individual school to decide whether the show will be Educationally driven, or used as a reward (Fun Show). Stephen and/or Christina Wilson will present the show. They are the founders of Miracle of Science & are also registered vendors in the majority of Florida counties. Both Stephen & Christina have been cleared for appropriate background checks, Jessica Lungsford Act approved, have State Badge, and undergo drug tests annually.
This will be taking place on May 22nd during and school hours and also have 1 evening presentation. Please feel free to bring the whole family. This is a free event, science kits will be available for purchase.