Mission Statement: "Preparing the high school ready, college-bound student."

APPLICATIONS for 2017-2018 are open from DECEMBER 1 - FEBRUARY 8.
To apply, you will need your child's:
BCPS Student Identification Number

If your child is not a current BCPS student, visit any BCPS school to request a Student Identification Number for your child. Please bring a form of personal identification and your child's birth certificate

Additionally, Magnet Middle and High school applicants submit to the Demographics & Student Assignment Department

a copy of the most recent report card
a copy of FSA English Language Arts (ELA) and math scores**
**If FSA scores are not available, Magnet Middle and High school applicants must provide nationally recognized standardized test scores.
The online School Choice application is only supported in Google Chrome.
---
Students must meet academic requirements for the International Affairs & Business program:
Proficiency (academic achievement) on Reading and Math standardized tests.
Minimum 2.5 GPA in core classes (Mathematics, Language Arts, Science, and Social Studies)
---
CLICK HERE TO SIGN UP! You will have an opportunity to see our Spanish classroom, CAPE Academy, meet our administrators, and find out why McNicol's programs are among the best in the nation!
MAGNET OPEN HOUSE: Tuesday, January 30, 2018 at 6pm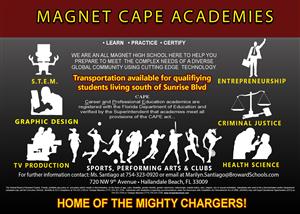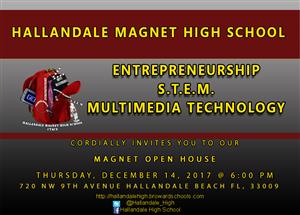 ABOUT THE PROGRAM
Students will study 3 years of a World Language (Spanish) through the International Affairs and Business program. Students can earn 2 high school credits for World Language (Spanish). Courses incorporate high school text books together with ancillary materials such as CD tutors, on-line textbooks and workbooks. Teachers have access to classroom computers and utilize the latest technologies through Promethean (smart board), e-reader tablets, iPads, and computer labs. Students have opportunities to go on field trips including: Epcot Center (Disney World), Salvador Dali Museum (in St. Augustine, FL), restaurants, plays, concerts, and festivals.
Students in the IAB program take advanced classes in Math, Science, Language Arts, and Social Studies. Students may also be in an advanced Reading class, Computer Technology in one of our computer labs learning Microsoft Office and working towards Industry Certifications. A series of computer/IT classes from grades 6-8 will take students through curriculum to prepare them to master Microsoft Excel, Word, and Powerpoint. Some colleges accept the Microsoft Certification for college credit!
Students also participate in the Broward School District World Languages Competition through art, media, games, and plays.
Please contact our Magnet Coordinator, Ms. Lohrer, for more information about applying for one of the programs.
Magnet Coordinator
Bernadette Kogut Lohrer
Phone: 754-323-3431
The boundary for this program extends from the Atlantic Ocean to the Everglades and south of Sunrise Boulevard down to County Line Road.