Teacher Testimonials
Broward County Public School Teachers discuss their personal journeys. See why they chose to live, teach and play right here.
Joshua Smith - Science Teacher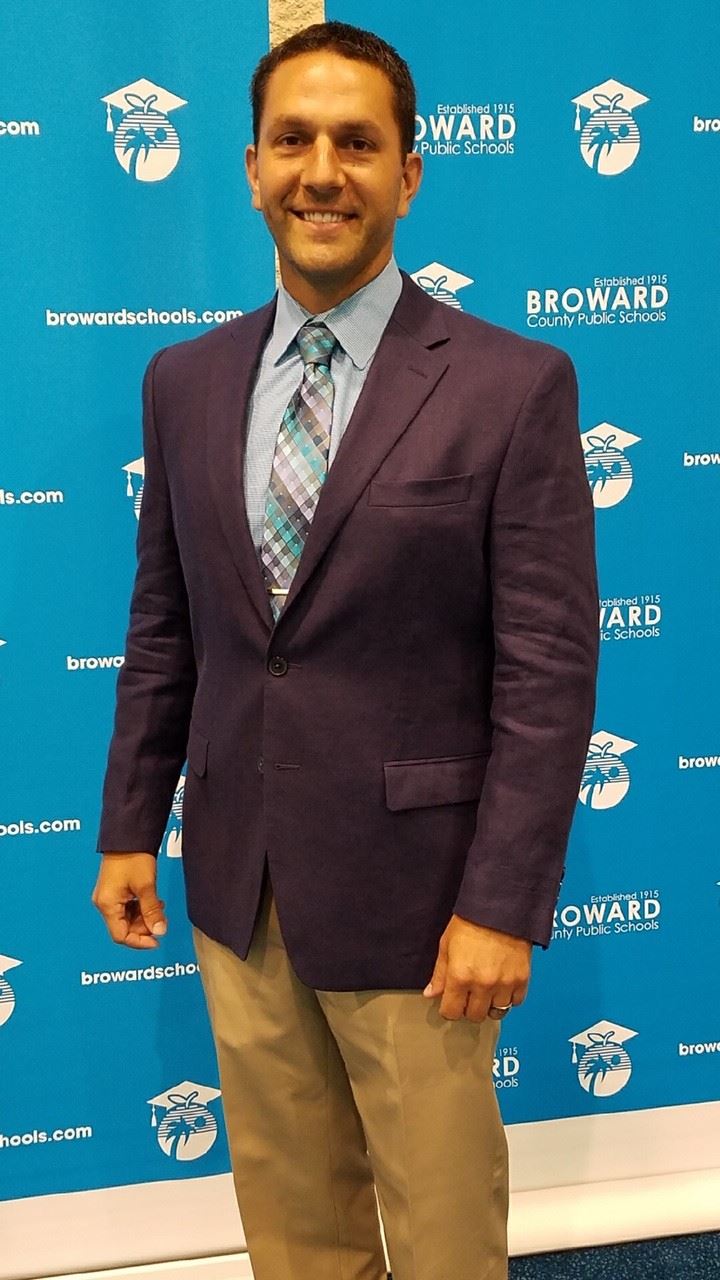 Why you would recommend teaching as a career?
A Northern Indiana professional changes careers and relocates to Broward County.
1. Why you decided to change careers. Was it an easy decision? Why or why not?

My previous career was working for a Lake and Wetland Management company. I was in the field and we would conduct water quality tests, eliminate invasive aquatic plant species within the lakes and canal systems in South Florida.
Applying to the state was a process that I was not familiar with. I did not know any educators so I researched the process myself on the FLDOE website and reviewed the credentials. By completing my degree from Purdue University and obtaining a Bachelor of Science in Biology and Associates of Science in Chemistry I was able to conclude that I could apply for a temporary certification for Biology 6-12. Since I qualified to teach biology I knew that this was an easy decision as I would work with the youth and teach the subject that I enjoy.

2. Tell us about your move to Broward County and how you adjusted.

I am originally from Northern Indiana. In high school and throughout college I worked for the YMCA as a lifeguard and with the child care/afterschool care programs. The economy was moving slowly at that time and finding a career that correlated with my degree was not happening. I made the 1,300 mile journey and worked at the local YMCA until I found a career that utilized my education. You could say I adapted well….the climate had no impact ;-).

3. Tell us (reality) about some challenges you had and then how you feel today.

Finding a career is easy but finding one that you enjoy is hard. I think my challenge was more so finding something that I love to do and be good at. A lot of career titles sound interesting and thinking you possess the skills to do the job efficiently is always a thought. This is why one should never hold back and have an initiative to strive for success. If the first, second, third or future career does not flow with your life goal it is ok to keep trying. Finding your niche in the work place is essential and waking up every day with a smile on your face and know that it is going to be a good day is what one should look forward to in a career.

4. If you could point out how BCPS helped you adjust and how you feel you can continue to grow.

BCPS provided me an opportunity to utilize my education in a career that I love to do. They have an abundant supply of resources at ones finger tips and the overall process is always to ensure that one succeeds. Everywhere you look there are opportunities for one to grow. Every day as an educator is a new day. No two days are the same. Furthermore, BCPS has encouraged me to advance my education and to once again strive for success and that there is no limit with ones goals. Continue to challenge yourself and reach for your endeavors

Anything you feel is important to someone considering career change to teaching….

If you have a gut feeling that is telling you to try something new and innovating then you must try and pursue the opportunity. Get involved and visit a local community school to see if the opportunity is your calling. I say, if there is an idea that lurks in your mind then you should pursue it. There is never failure only success. We may not succeed the first time but opportunities are always at ones grasp and one will never know what they are capable of doing unless one tries.

In your own words, why you would recommend teaching as a career.

It keeps you young!!!!! Hahaha. Teaching is a craft that is unique to individuals that knows what it takes to do a job and do it well. If you enjoy making differences in people's lives, collaborating with various individuals, advancing your opportunity to professional grown and learn, and creatively share ones interest, knowledge, and passions with others then I suggest teaching is a career for you.
Katherine O'Fallon / A Career Change: My Story
Hear how a career change, and a move to Broward County inspires children to help change the world through Marine Biology.
Kelly Oddone / A Career Change: My Story
An Argentinian teacher moved to the United States. With help and guidance from Broward County Public Schools, not only is she teaching, but she continues to learn, grow and pursue her Masters' Degree.
Find out how Raed's dream teaching job, in Broward County, became a reality. From a job fair in Pennsylvania to a successful, upward and inspiring career.