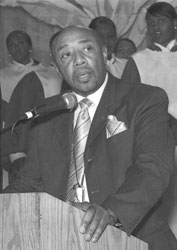 Mr. Melvin (Mel) White, Jr. received a Bachelor of Arts (Voice) degree in music from Tougaloo College in Mississippi and a Master of Arts (Choral Conducting) degree in music from Ohio State University where he graduated Suma Cum Laude.
Who is Mr. Melvin (Mel) White, Jr. ?

Melvin has had an enriched background in developmental studies and experiences in the field of music. His talents began to be developed at an early age under the instructions of his grandmother who was a well-known piano teacher, performer, and choral director. He was also influenced and highly motivated by his father, Melvin White, Sr., who played drums for several years with the renowned Count Basic Band. His father took pride in his own accomplishments of playing with a professional band and constantly tried to motivate his son to also pursue a musical career. In addition, two other family members also advanced to the professional performance level which made a significant impact on Melvin's musical aspirations. As a result of Melvin and all of his siblings taking piano lessons at early age from their grandmother, competitiveness was often evidenced and common practice in their race to excel and impress their grandmother. As a result of being surrounded by a world of musical experiences and a musically talented family that positively influenced him and served as his role models, Melvin's developmental experiences, training, and background were greatly enriched.

Melvin has received numerous awards and honors as he advanced in his studies throughout the undergraduate levels and his professional career. His undergraduate honors include being acknowledged for excellence as the student conductor of the Tougaloo College Concert Choir for the full four years. This was a first in the school's history since he assumed this post in his first year as an incoming freshman. At the graduate level, he finished in the top five percent of his class from Ohio State University. In addition to outstanding achievement in music and outstanding vocal talent, he also advanced in the corporate world to being appointed a supervisor of reservations at the Delta Airlines Corporate Center in Atlanta, Georgia where he also served as a marketing agent and traveled throughout the United States and abroad to represent the company. Other academic and artistic awards include Herf Jones Keys Graduate Fellowship Award; Conductor Emeritus for the Episcopal Mission Society of Advanced Vocal Studies in Tunisia, Africa; and many other community awards and commendations.

Melvin is a member of the Omega Psi Phi Fraternity and most recently serves on the sitting board as part of the Education Development Team for the new Gospel Music Complex For Education and Preservation. This new $145 million dollar complex to be located in Lauderhill, FL., will be the new home for the Gospel Music industry and is the only one of its kind in the world.
The Hallandale Magnet High Chorus gave an amazing performance during this months HERO party. Many thanks to the Director of Hallandale Magnet High Chorus Professor White and the amazing students.