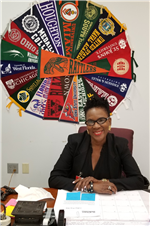 Hello South Broward High School families.
As we begin the new school year, I extend greetings from the BRACE office.
My job is to make sure students know their career paths and are well equipped to go into the university setting. Enjoy the resources of the BRACE office and use your Family Connection frequently. Make sure you are contacted by texting with us. The Brace Texting System will help you remember important events that happen through the BRACE office, such as group meetings, individual meetings, Family Connection tasks deadlines, SAT/ACT testing dates, etc.
Please text to this number: 81010