Principal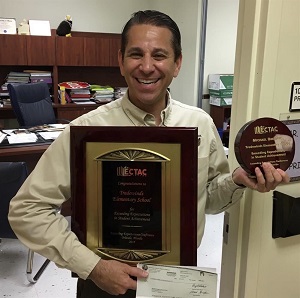 Last week, we featured and recognized our outstanding Debate team. This week's congratulations goes to our Trade, Wind and Fire performing group (along with their facilitators Ms. Larrieux and Mrs. Valbuena) as we hosted and welcomed special program coaches throughout our district. It's not uncommon that Tradewinds showcases the many innovating programs that are in place at our outstanding school. Second grade's service project, "Pennies for Puppies" raised nearly $1,500 and our entire learning community should be commended. We will kindly present Tri-County Animal Rescue with a check from our school!

Along with today's Eagle newsletter, the following communication is being sent home. Please check your child(ren)'s backpack(s) for a duplicate of two important beginning of the year on-line forms. In August, many parents were able to complete these required documents through Wizard, however, we are at that time of the year when photographing becomes more frequent through events and activities and even as the yearbook is prepared. Additionally (as a part of Policy 6000.1), our students will also participate in the Family Life and Human Sexuality grade level curriculum (typically in May). We are asking for all parents to complete (as an update) both and return to your child(ren)'s teacher(s) no later than Friday, February 28th. Portuguese, Spanish and Haitian-Creole versions are also available. Unreturned forms will be considered as consent to photographing and the health curriculum. In addition to updating these forms, all students received a Parent Guide and information regarding the Novel Coronovirus (2019-nCov). Please review.

Please join us next Tuesday, March 3rd (new date) for our Coffee and Comprehension parent learning at 8:30 a.m. The focus topic will be on School Board Policy 6000.1 Student Progression Plan. Knowing this policy may better prepare parents and families in understanding promotion criteria by grade level. We will also have both Portuguese and Spanish interpreters at the meeting.

Additional Dates: March 9th-12th - PTA's Spring Jungle Book Fair and Spring Night - This year's theme is "Elephants, Tigers and Books, Oh My!", March 12th - School Advisory Committee, March 17th - Employee Planning Day, March 19th - Early Release Day and March 20th - Employee Planning Day, March 23-27 - Spring Break. Save The Dates: April 1st - Reading Across Broward Logs due, April 16th - Kindergarten Roundup and April 23rd - Take Our Daughters/Sons to Work Day. April is Autism Awareness Month.

Our Florida Standards Assessment (FSA) season will officially begin on Wednesday, April 1st. Please add these important dates to your calendar (please check other side of Eagle), as they are updated from earlier in the school year. All testing this year will be paper based.

Sincerely,

Michael A. Breslaw

Principal

Under Florida law, email addresses are public records. Your email address and the contents of any email sent to the sender of this communication will be released in response to any request for public records, except as excluded by F.S. 119.071, 1002.22(3) (d) [student records], or any other law of the State of Florida. If you do not want your email address to be released as part of any public records request, do not send email to this address, rather contact this office by phone or in writing.

The School Board of Broward County, Florida expressly prohibits bullying, including cyberbullying, by or towards any student or employee. See Policy 5.9: Anti-Bullying for additional Information.