Principal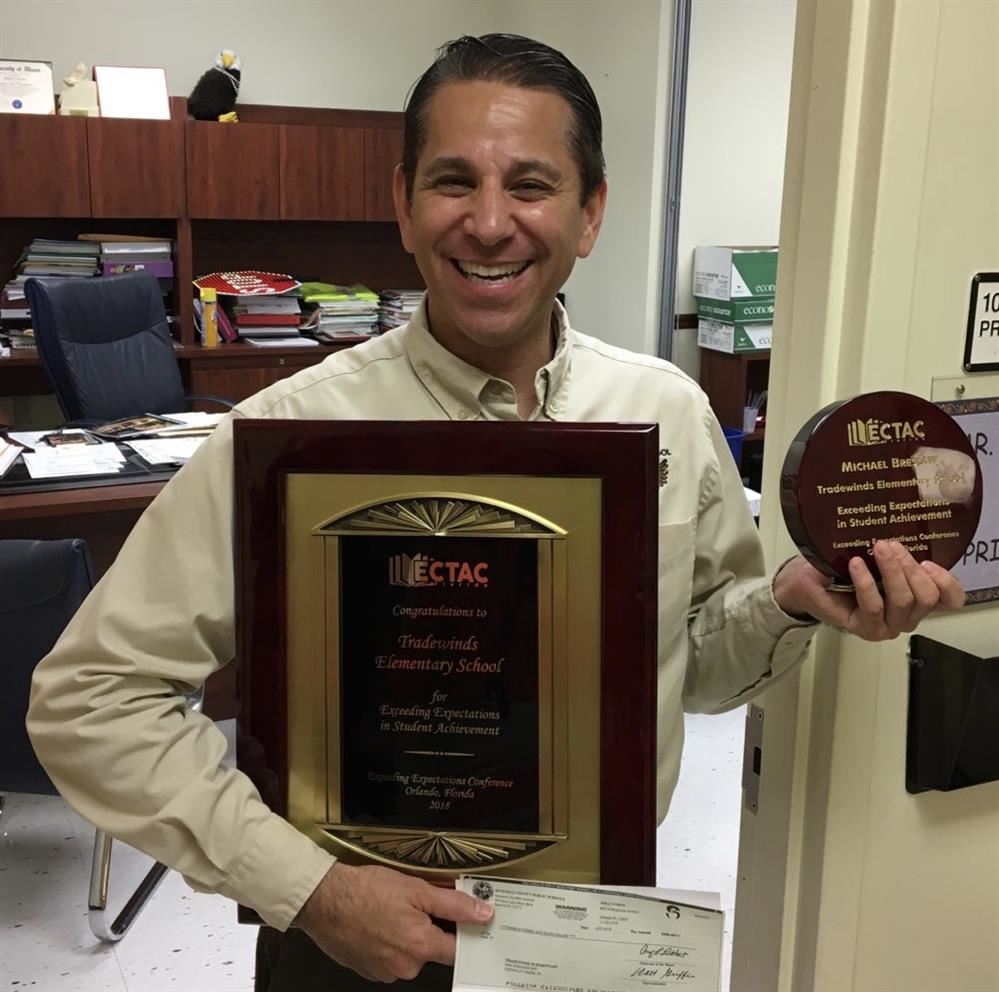 1/14/2019

Dear Tradewinds Families,

Welcome to the third nine weeks of this school year and we are quite proud of how our students returned focused and ready for a busy quarter. Tonight, our general School Advisory Forum and PTA will meet at 6 p.m. We look forward to tomorrow's Coffee/Café and/y Comprehension (Topic: Writing throughout the Content Areas) hosted by Ms. Campolo, Reading Coach. We will meet in Room 112 at 8:30 a.m. Other meetings/events/activities include: School Advisory Council (2:15) – January 17th, School-wide science rotations - January 18th, Young Author's Showcase (6:30 p.m.) – January 23rd, Report Cards issued – January 30th and Grade 5 Junior Achievement BizTown – January 31st.

As a Title One School, we greatly appreciate your feedback. If you haven't already, please complete the Title One annual survey accessed from our school's website or at the following:

https://docs.google.com/forms/d/e/1FAIpQLSeA0ESn8HREFzbC0s-PC_HSlq1DQ50ubrO3PFmGwGQxzgF8jA/viewform

Tradewinds Elementary School 2018-2019 Title I School Parent and Family Engagement Survey
docs.google.com
This survey is designed to help our school find out how well we are working with you. Directions: Please answer each question by circling the number that corresponds to your level of disagreement/agreement with each statement. The rating scale ranges from "Strong Disagree (1) to Strongly Agree (4), place a check in the circle if you never received the information or circle N/A if you have no opinion on the statement. We appreciate your feedback!


On Thursday, January 17th from 7:00 p.m. to 8:30 p.m., The Title One Department will host a parent training academy meeting called Cultivating Positive Behavioral Skills and Responses in Students. This learning opportunity will be located at Banyan Elementary School, 8800 N.W. 50th Street, Sunrise and refreshments will be served beginning at 6:15. Please contact Ms. Kendrick, our Title One Coordinator with any questions at latasha.kendrick@browardschools.com.

The administration of the Broward Standards Assessment began last week and will continue throughout the month: January 14th and 15th - Grades 4 and 5 ELA, January 16th and 17th - Grade 3 Math, January 23rd and 24th - Grades 4 and 5 Math, January 28th and January 29th - Grade 5 Science. The Broward Standards Assessment (BSA) is a benchmark to spring's Florida Standards Assessment (FSA) and will provide targeted data in all ELA, Math and Science strands. Also, all students (K-5) will have a benchmark writing assessment on February 1st. As always, promptness and attendance is important to student achievement. Whenever our school tests, we are in need of proctor support and wish to thank all of our parents and family members who assisted our school this past week. If you are an approved volunteer who is willing to assist during this testing window, please contact Ms. Mascarella as soon as possible.

The first of our extended learning camps will begin in February. This camp is designed for English Language Learners and will be instructed by our teachers, coordinated by Mrs. Quezada, ESOL Resource Teacher. Once the forms are dispersed, please return them to your child's teacher or Mrs. Quezada (Indira.quezada@browardschools.com) with any questions.

By this time, all students have completed their I-Ready diagnostic assessments in Reading and Mathematics and should be working on their specific learning paths. Each student's learning path is differentiated to meet their academic needs and aligned to the standards.

Your Principal,

Mr. Michael Breslaw :)

Be the Change you want to See in the World...Start with Hello

(754) 322-8700 – school

(754) 322-8740 - fax

michael.breslaw@browardschools.com


Under Florida law, email addresses are public records. Your email address and the contents of any email sent to the sender of this communication will be released in response to any request for public records, except as excluded by F.S. 119.071, 1002.22(3) (d) [student records], or any other law of the State of Florida. If you do not want your email address to be released as part of any public records request, do not send email to this address, rather contact this office by phone or in writing.

The School Board of Broward County, Florida expressly prohibits bullying, including cyberbullying, by or towards any student or employee. See Policy 5.9: Anti-Bullying for additional Information.