Principal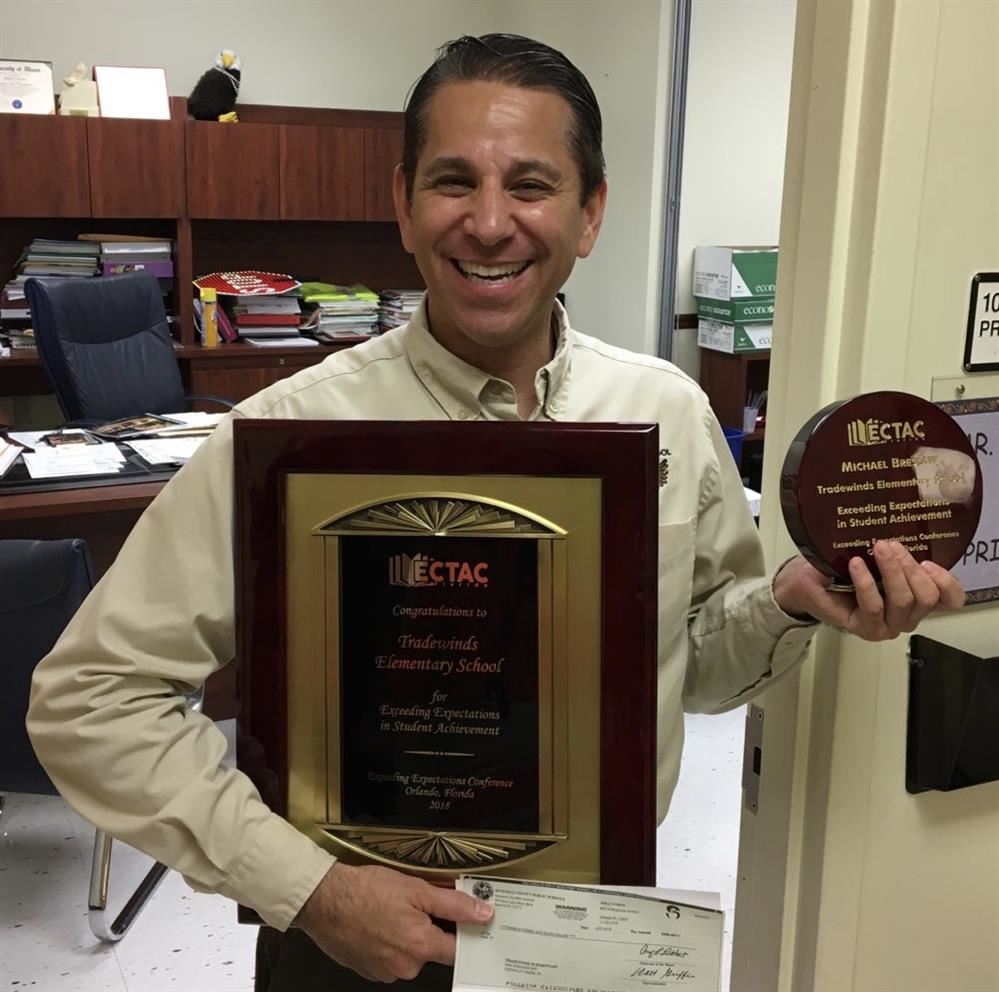 11/13/18

Dear Tradewinds Families,

I would like to extend a heartfelt thank you to all of our children, staff, families and businesses who donated items for this year's Harvest Fest. Over 35 boxes of donations were shipped to Westglades Middle School as their team prepares to make a difference in the homes of so many for this upcoming Thanksgiving.

Today was an honorable day at Tradewinds as we held our annual Veteran's Day Celebration. Our school was filled with citizenship, respect and patriotism as we opened our doors and hearts for the brave men and women who have served our country and given all of us our freedom. More than 40 veterans from the Unites States Armed Forces consisting of the Army, Navy, Marine Corps, Air Force and Coast Guard joined us along with Mayor Joshua Rydell and members of our Coconut Creek City Commission. Performances and pride filled our school and was enjoyed by all who attended. Our student and staff performances, safety patrols and PTA's assistance were outstanding. South Miami Senior High School's JROTC opened the ceremony with a representation of colors and it was an entire learning community effort. A special thank you to Mrs. Dorman, Ms. Campolo, Mrs. Angulo, Mrs. M. Rivera, Mr. Katongo, Tradewinds PTA, Safety Patrols, South Miami Senior High School's JROTC, Ms. Altman, Officer DeVivo and our performing groups: Emeralds, Panda Girls, Trade Wind and Fire, Mrs. Fraschetti's class, Ms. Towne's class and Sophie…our Share-a-Pet guest!

Tonight is our school's second Young Author's Showcase of the school year facilitated by our Creative Writing Teacher Mrs. Levine. Please join me in congratulating the following students as they proudly shared their original work to their peers and our families: Vanessa Alcazar, Sarah Aponte, Avery Bavaro, Mariska Brown, Maureen Datta, Victor Ferreira, Gillian Gurreonero, Erick Jimenez, Ana Luiza Maraccini, Cole Medley, Ariana Paredes, Jayna Pearl and Alexandra Lea Romanski. Keep reading, writing and using your imagination!

Upcoming Events to Note: 11/14 - Report Cards (K-5) issued and Makeup Picture Day, 11/19 and 11/20 - Grade 2 Performance (invitations forthcoming), 11/26 - PTA's Holiday Shop and Giving Tree, 11/27 - Coffee and Comprehension (Social and Emotional Programs and Services presented by Ms. Kendrick), 11/28 - Grades 3-5 S.T.E.A.M. Family Night.

If there is a change in the way a student is dismissed (even for one day), written permission or a phone call to the office must be received in advance. Please understand that whenever a child's dismissal is being changed, the family password must be provided by the registering parent/guardian and permission given. Please review who is listed as your child(ren)'s emergency pickup(s). These steps are essential and there will not be any exceptions.

PTA is organizing a beautification day. We will be raking and cleaning the commons areas, especially the area around the playgrounds. Please bring gloves, trash bags and rakes. This project will kick off our playground renovation project. If you would like to participate, please sign up at: https://www.allforgood.org/projects/GQwrV3k5. Please come help out on Saturday, November 17, between 9 and 11 a.m. You are always welcome.

Your Principal,

Mr. Michael Breslaw :)

Be the Change you want to See in the World...Start with Hello

(754) 322-8700 – school

(754) 322-8740 - fax

michael.breslaw@browardschools.com


Under Florida law, email addresses are public records. Your email address and the contents of any email sent to the sender of this communication will be released in response to any request for public records, except as excluded by F.S. 119.071, 1002.22(3) (d) [student records], or any other law of the State of Florida. If you do not want your email address to be released as part of any public records request, do not send email to this address, rather contact this office by phone or in writing.

The School Board of Broward County, Florida expressly prohibits bullying, including cyberbullying, by or towards any student or employee. See Policy 5.9: Anti-Bullying for additional Information.