Principal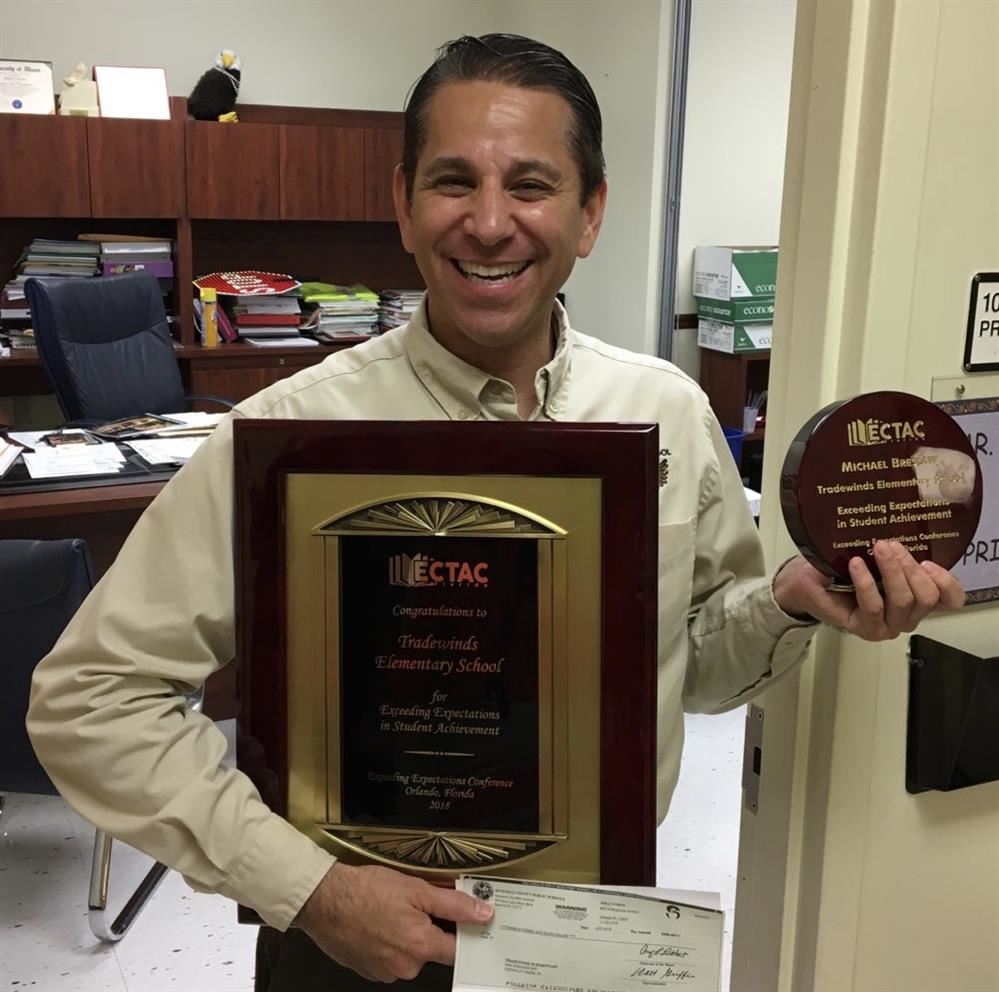 Our students and staff earned an their first A+ of the school year this week! Welcome back to all of our returning "eagles" and a warm welcome to our new students and families. Over 1,200 students arrived Wednesday morning at Tradewinds! The children (and parents) appeared ready and we anticipate a successful and "bright" year of learning, growth, development, innovation and achievement at Tradewinds. As highlighted in the first day letter, I am proud of everyone associated within our learning community for the way we continue to embrace new challenges each year. At Tradewinds, we do this as a family and our continued achievement is recognized. Congratulations to our students, families, community stakeholders and staff as we increased our learning gains in both English/Language Arts (+5%) and Mathematics (+5%).

Throughout the school year, we will have a variety of family events, celebrations and learning opportunities. Parent education will include information on our school's social and emotional programs, the Florida State Standards in Language Arts and Mathematics, FCAT 2.0's Science standards and STEM scopes, the state's assessment program, changes to Policy 6000.1 (Student Progression Plan) and our positive behavior plan and Responsive Classroom, etc. Our Coffee and Comprehension dates are outlined in your 2019-2020 Student-Parent Handbook and Activity Calendar and all sessions will accommodate English, Spanish and Portuguese-speaking parents.

Other useful information can be found within the First Day Communication Folder. Please read through all contents carefully and return any documents to your child(ren)'s teacher(s) by the end of this week. Safety and Security, Arrival and Dismissal, Communication and Welcome Back to School Forms are highlighted areas. More information can be found via email and I will continue to send weekly updates as they arise. Communication is an integral part of your child(ren)'s success in school. Please refer to our web page (http://tradewinds.browardschools.com) and take special notice of Monday's Eagle newsletters (such as this one). This weekly green flyer includes up-to-date school and district information as well as an on-going revised calendar. You may also contact me at any time at michael.breslaw@browardschools.com or by calling the school. During different times of the school year, it may take up to 48-hours for a response. However, all calls and inquiries are important to me and will be addressed.

Our theme this year is "When you Dream Big...the Sky is the Limit". Our students will learn to reach toward their highest potential, embrace challenges, create goals and persevere through obstacles.

To celebrate National School Lunch Week, the Food and Nutrition Services Department is sponsoring a poster contest for all students in Broward County Public Schools. This year's theme is " School Lunch - What's On Your Playlist?" Our art teacher, Mr. Villalobos, will be sharing more information in the coming days regarding criteria and the due date for these posters.

Sincerely,

Michael A. Breslaw

Principal


Under Florida law, email addresses are public records. Your email address and the contents of any email sent to the sender of this communication will be released in response to any request for public records, except as excluded by F.S. 119.071, 1002.22(3) (d) [student records], or any other law of the State of Florida. If you do not want your email address to be released as part of any public records request, do not send email to this address, rather contact this office by phone or in writing.

The School Board of Broward County, Florida expressly prohibits bullying, including cyberbullying, by or towards any student or employee. See Policy 5.9: Anti-Bullying for additional Information.