Principal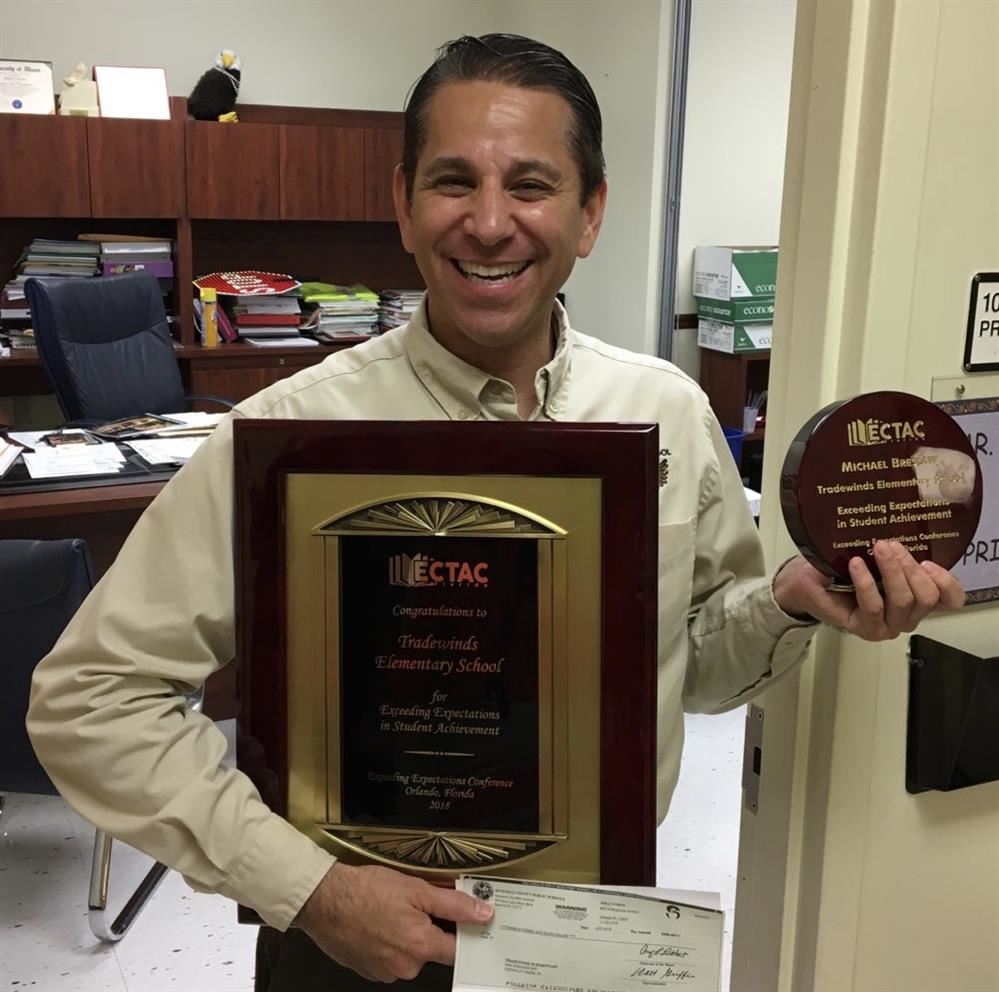 5/20/2019

Dear Tradewinds Families & Friends,

Even though we are winding down this school year, Tradewinds continues to "buzz" and "shine" with learning, activity, excitement and recognition. First and Second grade students completed their Primary Reading Assessments and all grade levels are finishing their end-of-year requirements and mathematics assessments. On Thursday, our Second Grade students culminated a unit of study with the re-enactment of Ellis Island and Fourth Grade students are gearing up for their Florida presentations.

It's also another week of honor and celebration as we approach Friday morning's Volunteer and Room Parent Recognition and Appreciation Event. Once again, Tradewinds has earned the Golden School Award for our stellar Volunteer Program and community service. Kudos to Tradewinds and thank you for all of the time given to our children and staff.

Tradewinds Elementary continues to "shine" within our community and throughout the district!

Congratulations to the First Place Math Team from the North Area's Broward County Council of Teachers of Mathematics (BCCTM): Alexander Nguyen, Ysabella Posadas, Haleigh Potter and Mason Udell. Kudos to sponsor and coordinator Mrs. Matiuk. These students were also rewarded with admission to Robotics IMAX Summer Camp.
Congratulations to our "artists" who have their work displayed at the City of Coconut Creek's Parks and Recreation Department: JayLynn Adorno-Schatzberg, Victoria Avila, Ashton Coleman, Kathleen DeOliveira, David Do Nascimento, Carolina Gomes, Alexander Laverde, Emma Lett, Reese Mackey, Brooke Medley, Laila Newman, Julia Piva Nogueira, Genesis Reyes Ochoa, Yoselin Soto and Cheslea Valcourt. Kudos to Mr. Villalobos!
Congratulations to Third Grader Edwin Stepha who was recommended as a District Kid of Character and to First Grade Teacher Mrs. Doda who was recommended as a District Staff of Character. Edward and Mrs. Doda consistently exhibit good character and serve as role models in the classroom. To celebrate their accomplishment, the YMCA of South Florida has awarded each a $50 gift card.

Last year, The Florida Department of Education released Third Grade's Reading FSA English and Language Arts scores around this time. As soon as the data arrives, our team will begin the communication process with all parents/guardians. All other state assessment results are expected sometime in June and once available, I will send out a ParentLink/Email to the community.

Thank you to our School Advisory Committee Members who worked diligently last Thursday to finalize the School Choice Enhancement Ballot. Voting will begin over the next day or two and a ParentLink/Email message will explain the process in detail.

Save The NEW Date: Tuesday, August 13th (Annual Ice-Cream Social and Meet and Greet).

Your Principal,

Mr. Michael Breslaw :)

Be the Change you want to See in the World...Start with Hello

(754) 322-8700 – school

(754) 322-8740 - fax

michael.breslaw@browardschools.com


Under Florida law, email addresses are public records. Your email address and the contents of any email sent to the sender of this communication will be released in response to any request for public records, except as excluded by F.S. 119.071, 1002.22(3) (d) [student records], or any other law of the State of Florida. If you do not want your email address to be released as part of any public records request, do not send email to this address, rather contact this office by phone or in writing.

The School Board of Broward County, Florida expressly prohibits bullying, including cyberbullying, by or towards any student or employee. See Policy 5.9: Anti-Bullying for additional Information.