Our mission is to provide students with an inclusive child care program that is safe and nurturing in a comfortable environment. A culturally enriching program that promotes the physical, intellectual, emotional and social development of each child; and a program that meets the highest quality of child care standards.
Before and After Care at Westchester Elementary
Learn More
Click each tab to learn more about Before & After School Programs at Westchester Elementary
Contacts
Westchester Before and After Care is a School Board Operated Program
Aftercare Directors: Sotoya Bell
Email Directors: Use the Westchester Staff Directory Page to email directors
Telephone: 754-322-8927

(This number is answered during Before and Aftercare Hours)

After-Hours Telephone: 754-322-8928

(Use this number to leave a voicemail)

Before Care: 6:30 am - 7:30 am
After Care: 2:30pm - 6:00 pm
Registration and Fees
12 Pay Periods total with 15 days in each Pay Period

Registration: $30 per child

Before Care: $53

Aftercare: $214 plus $17 activity fee

Sibling rate and Broward County school board employee: $203 plus $17 activity fee

Scholarship application opens August 1st to January 1st: Please include the attachment for parents

As per SCHOOL BOARD POLICY 3411 and the Constitution of the State of Florida, Article VII, Section 10, all payments must be made in advance, prior to the start of the pay period. If payment is not made by the last day of the pay period, the child is withdrawn from the program, and a re-registration fee must be paid to re-enter the program. Re-registration may occur only if space is available in the program. All fees must be paid to re-register in the program.



Tax ID #59-6000530
Registration Procedures
Thank you for your interest in Westchester Aftercare! Please read everything below before proceeding to the application page.
Aftercare Safety Processes
All Supervisors of the program are trained in CPR/AED First Aid & can administer prescribed medications to students with proper authorization.

Multiple staff members are also trained in CPR/AED First Aid

Supervisors and staff have monthly staff meetings in which to communicate and practice emergency situations: Fire Drills, Lockdown Drills, Tornado Drills and Code Black (Adults only, no students are involved with this drill).

The Supervisor of the program also monitors severe weather daily and is alerted if inclement weather is in the area by a weather radio in the front office and the Weather Bug app on their phones.​

Fire Drills

These drills must occur every month and must be completed in under three minutes.

Evacuation Maps are posted in all classrooms and are also accessible on the counselors' tablets,

Groups practice primary and secondary evacuation routes during these drills.

Social distancing is enforced during these drills.
Schedule and Snacks
Each day in Aftercare, students partake in:


Outside activity (weather permitting)

Homework time

and many other fun structured activities





​*Practice Drills occur in Aftercare on a monthly basis except for Tornado and Code Black Drills (1 each semester)

CLICK HERE for this year's daily group schedules.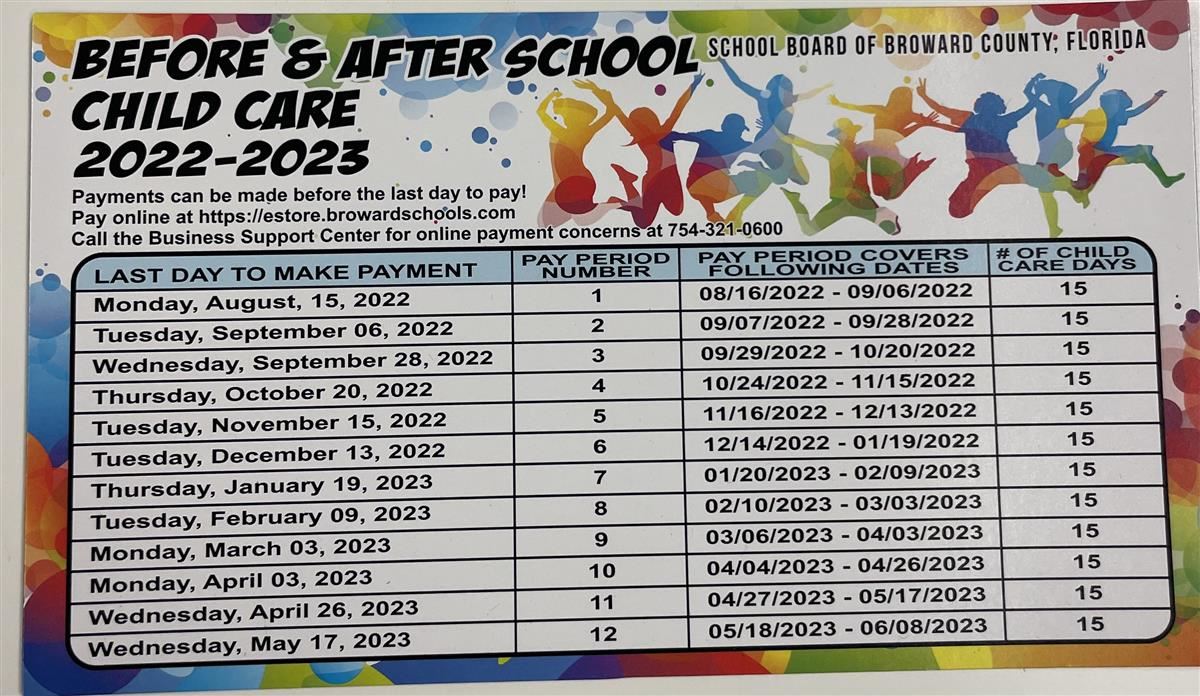 Working at Westchester Aftercare
Westchester Aftercare is Hiring!!!!!

Westchester Aftercare is always looking for prospective counselors who have a passion for working with students and expanding upon their experience with school-age children.

If you are interested in joining our team click here to go to Applitrack and click on Non-Instructional Before and After School Care on the left. Look for Westchester Elementary as the location.

Applicants must have at least one year of previous child care experience and an accredited high school diploma.