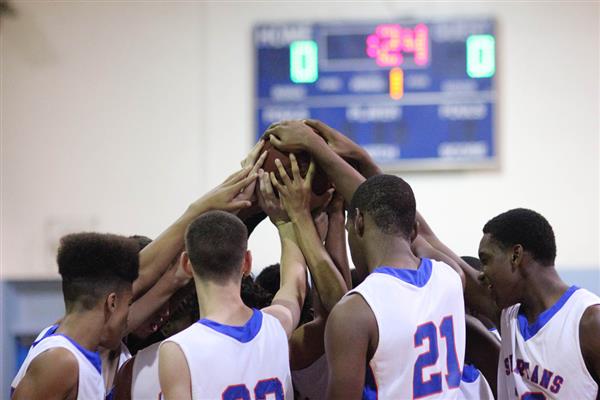 Welcome to Spartan Basketball!

Our goal at Hollywood Hills High School is to develop a foundation for a championship program and use basketball as a tool to empower young men to be champions in the classroom, in their families, and their communities. Our desire is to develop the "whole person", not just young men who can jump high and score. The program of our program is to offer the best high school basketball experience possible. Our staff and program, led by an experienced and accomplished coaching staff, including head coach Leo Green, is committed to excellence in the classroom, on the hardwood and in the community. The program's continued tradition of hard work has guided the Spartans to repeated playoff appearances.

The Spartan Boys' Basketball program strives to be known and respected as a first class program that cultivates quality students, responsible citizens, student leaders and basketball players.

The Spartans look forward to continuing our tradition of success for years to come.
Hollywood Hills Welcomes New Head Basketball Coach!

New Boys Head Basketball Coach Mr. Jay Lee (left) is welcomed to Hills by Principal Gonzalez and outgoing coach Mr. Leo Green (right).

Hollywood Hills High School is happy to welcome new Head Basketball Coach Jay Lee to our coaching staff. Mr. Lee brings some 34 years of basketball experience to Hollywood Hills, including 19 years experience playing basketball as a professional. For the past 15 years, Mr. Lee has been a coach, mentor, and personal trainer for kids and young adults. He is an expert basketball trainer who emphasizes hard work and teaches his players what it means to "never give up!"

He personally works with kids teaching, practicing and perfecting basketball fundamentals. The fundamentals learned from him not only make them a better athlete, but helps them build character to carry them through life. Coach Jay Lee understands children and seeks to improve not only the player but the emerging man within the athlete. He encourages positive attitude not just on the courts, but in life. Young men and women seek his expertise to develop and enhance their basketball skills. He works with average, good to advance players of all ages.

Mr. Lee also founded Hoop Phi Hoop, an organization that focuses on influencing players to further their education through basketball by introducing them to intensive basketball. He began instilling basketball techniques and a strong work ethic in players all around the United States. He continues to train and mentor college and professional players today. Several of the players he has trained and mentored have obtained scholarships to Division I, II, III colleges.

Welcome Coach!
From the Coach...

The Hollywood Hills High School Basketball Program proudly embodies the tradition of winning, with honor, and is guided by the core values of Brotherhood, Discipline, and Toughness. Through teamwork, our players learn the meaning of brotherhood by putting their teammates first and playing for each other, not for themselves or for self-promotiion.

Our players discover the value of discipline by executing a plan and realizing that success comes from doing things the right way in a disciplined and prepared approach.

Finally, our players learn how to positively handle adversity and have the mental toughness to make the right decisions both on and off the court.

Mr. Jay Lee, Head Coach