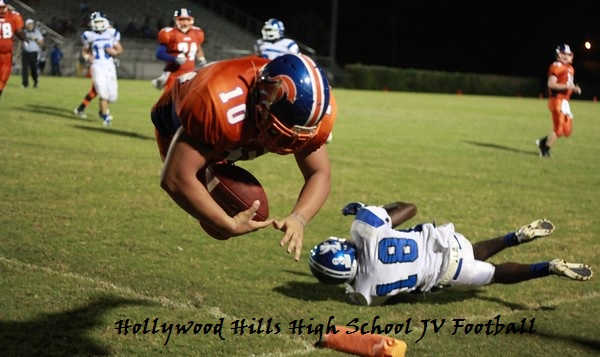 In life, as in a football game, the principle to follow is: Hit the line hard -- Theodore Roosevelt

Welcome to JV Football!

The mission of the Hollywood Hills High School JV Football Program is to teach the fundamentals of football while emphasizing team building, sportsmanship, and positive attitudes.

As such, the junior varsity team prepares our student-athletes to compete at the varsity level by developing and refining their football skills. Nevertheless, junior varsity games are hard-fought and our players compete to win and to gain the skills and experience to be one of the varsity players the next season.

Spartan Football bgins here!
From the Coach

As Head Football Coach of the JV Team here at Hollywood Hills High School, let me welcome you all to the exceptional tradition of Spartan Football. We feel our program is both challenging and rewarding, as we strive to do our very best on the field and in the classroom.

I would like to personally thank our transitioning players for their hard work and leadership on the JV team. You exhibited passion, resolve, and were always willing to learn and work hard to better yourselves as football players and students in the classroom.

You also played for the success of your team above yourselves and that is something that will serve you well as you join our varsity team. Spartan Football has only become stronger because of your hard work, dedication, and commitment to learning. We always look forward to visits from former JV players and all Spartan Football Alumni so we hope to see you soon. Once a Spartan, always a Spartan!

As we move forward, we are excited and looking forward to continuing the winning tradition that is Spartan Football. I am very excited about the potential of our team. The success of our team begins with you and your dedication to Spartan Football. Our JV players are our focus because Spartan football begins here and supporting them builds upon our proud legacy. With all this in mind, we look forward to working together, creating memories, and to making this program the very best it can be.

Mr. Fabian Carter, Head Coach

To play this game (football) you must have fire in you...
-- Vince Lombardi
Football doesn't build character, it reveals character! -- Marv Levy