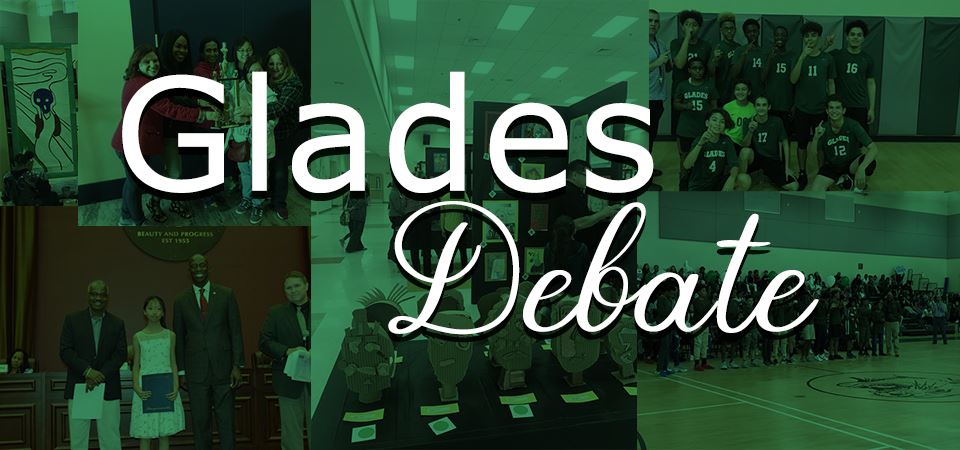 File Resources

Link Resources

Video Resources
Why take Speech & Debate?

The Speech & Debate course at Glades Middle will help students develop not only public speaking skills, but will also help develop critical thinking, reading, writing, and listening skills that can be used in every class.

Curriculum

Materials will include "open courseware" from across the county, award winning recorded speeches, debates, and performances from competitions, materials designed by the instructor, handouts, and research articles. This class is very hands on with student research and practice. As we engage in speeches, debates, and performances, we will analyze each other's work to learn from it.

Competitions

Because this is a high school level class, it is required that students participate in the after school competitions and Middle School Championships in May. These competitions are an excellent opportunity for students to showcase the skills they have learned in class. There are a variety of categories in which students can compete, and they will have the opportunity to choose which category is right for them.

Before and After School Practice Time

Students will be given opportunities to practice for class and competition before and after school. This practice time will help them perfect their performances and receive valuable coaching input. We will have mandatory practices once a month after school at a minimum. Students can also practice during my office hours (8:30 am – 9:00 am) on Thursday mornings or can sign up for extra practice time at least two days in advance. I am available before and after school to assist them as well should they need it.