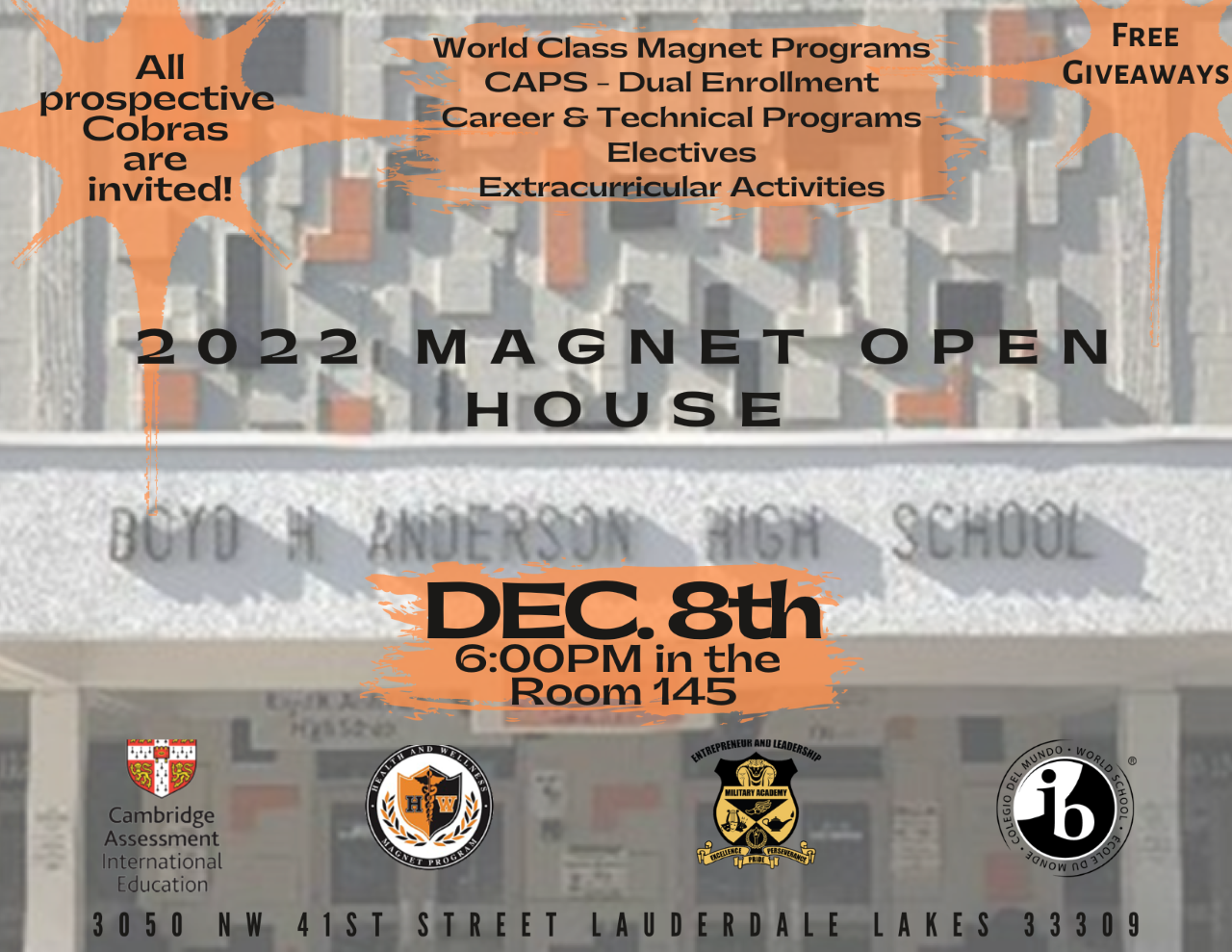 Magnet Open House: Thursday, December 8, 2021 at 6:00pm

Boyd Anderson Magnet Programs

Welcome future Cobra! If you live within Boyd Anderson's transportation zone and would like to be in the magnet program, you DO NOT need to complete the DISTRICT magnet application. We would love to share more information about all the exciting opportunities available.

A copy of the applicant's most recent report card must be submitted. (Middle School and High School applicants only)
All applicants must provide a copy of most recent achievement test scores. (Middle School and High School applicants only)
If you have not registered in a Broward County Public School, you MUST secure a student identification number at the home school (or ANY public school in Broward County) before submitting the application.


If you have any questions regarding the School Choice window or application process, please contact the Demographics & Student Assignments Department at 754-321-2480.

Apply NOW at: https://www.browardschools.com/schoolchoice
International Baccalaureate
The IB-MYP provides a framework of learning that encourages our 9th and 10th students to become creative, critical, and reflective thinkers. The MYP emphasizes intellectual challenge that encourages students to make connections with their studies in traditional subjects and the real world. The IB-DP is an academically challenging and balanced program of education that prepares our 11th and 12th grade students for success at university and life beyond. It has been designed to address the intellectual, social, emotional, and physical well-being of students. The IB-Diploma Program has gained recognition and respect from the world's leading universities. Upon completion of the IB Diploma Program, students benefit from the college credits they received for the IB courses, as well as the scholarships that are made available to IB Diploma recipients.
Health and Wellness Program
In the fall of 2000, the first high school Health & Wellness Magnet program in the State of Florida was established at Boyd H. Anderson High School. The Health & Wellness Magnet program operates as a school-within-a-school and is intended to provide qualified students with an enriched curriculum to prepare them for entry into health and medical related careers following high school graduation. The specialized industry certification courses offered are: Allied Health and Emergency Medical Responder. In addition, students will have an opportunity to college credits through dual enrollment, graduate as a Certified Medical Administrative Assistant(CMAA), EKG Technician, and a Certified Emergency Medical Responsder(EMR). Students will obtain real world work experience through field trips to hospitals, the fire academy and many others. Visit us on IG and Twitter @BAHS_health!