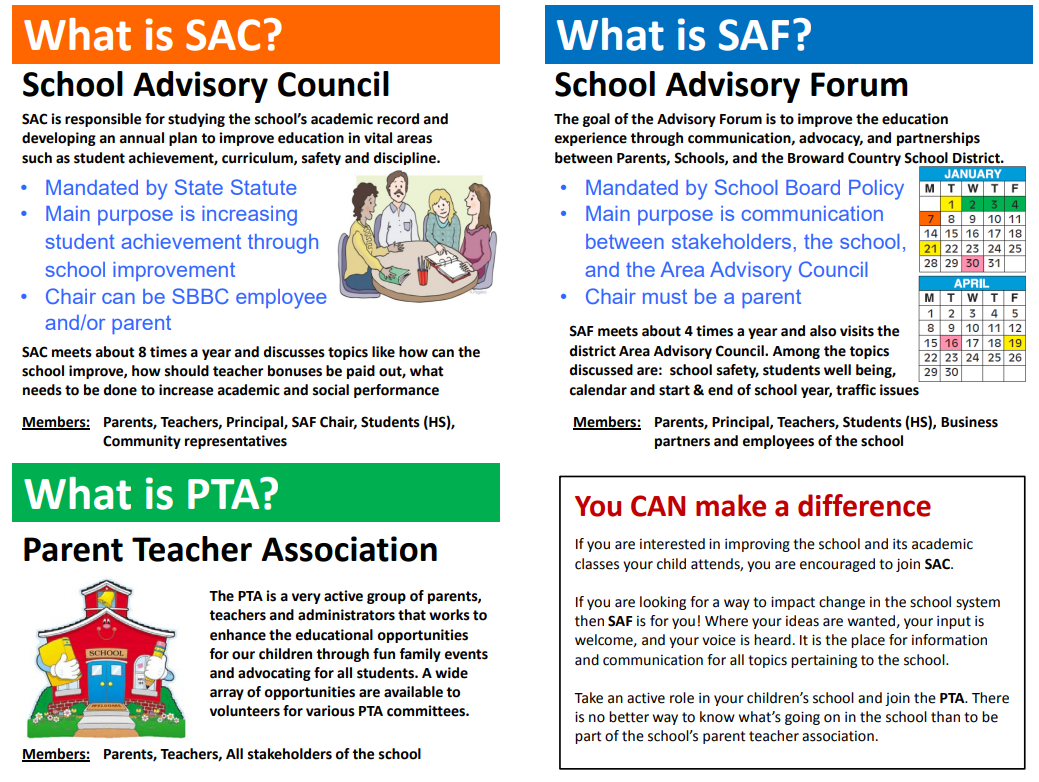 School Advisory Councils (SAC) sets up priorities and student performance standards that serve as guiding principles for schools.


A School Advisory Council looks at aspects of their school as suggested by the priorities and develops a written School Improvement Plan as part of the school and District's continuous growth model.
The purpose of the School Advisory Forum(SAF), established in accordance with School Board Policy 1.3, is to foster and promote communication between its stakeholders, the school, and the Area Advisory Council.

The SAF shall bring forth recommendations, concerns and interests to and from their Area Advisory Council. The membership of the School Advisory Forum (SAF) includes parents or guardians of students enrolled In the school, students of the school, business partners of the school, community members and business people.
Collaboration: We work in partnership with a wide array of individuals and organizations to accomplish our agreed-upon goals.

Commitment: We are dedicated to promoting children's health, well-being, and educational success through strong parent, family, and community involvement.

Accountability: We acknowledge our obligations. We deliver on our promises.

Respect: We value our colleagues and ourselves. We expect the same high quality of effort and thought from ourselves as we do from others.

Inclusivity: We invite the stranger and welcome the newcomer. We value and seek input from as wide a spectrum of viewpoints and experiences as possible.

Integrity: We act consistently with our beliefs. When we err, we acknowledge the mistake and seek to make amends.