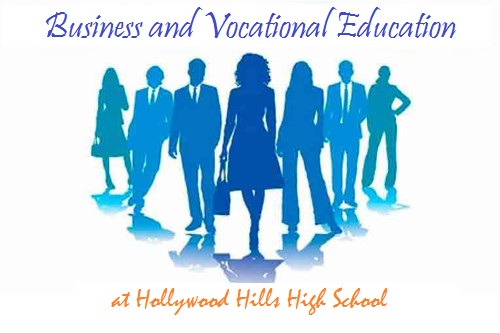 Business and Career Technical Education Department

"Each man has his own vocation; his talent is his call. There is one direction in which all space is open to him." -- Ralph Waldo Emerson

Welcome to the Hollywood Hills High School Department of Business and Vocational Education--education that works! Wouldn't you have more employment possibilities if you had web design training? Maybe you're interestedin culinary arts, carpentry, or communication technology. Whatever the case, Hollywood Hills High School offers programs and career training that can help make you a marketable prospect - and get you headed down a promising career path.

Vocational classes focus on teaching a skill or trade that can be used to prepare for college or a career. Taking vocational classes in high school is a good way to get a jump start on your future, whether it be finding a job or continuing your education. Hollywood Hills High School offers applied learning experiences that build academic knowledge, problem solving skills, general employment skills and specific career skills that lead to applicable industry credentialing.

Hollywood Hills High School Vocational High School Programs:

Digital Media Fundamentals Design
Production and Digital Media Delivery Systems
Communications Technology
Culinary Arts
Introduction to Technology
Carpentry
Applied Robotics

Want to Learn More?

To learn more about our programs and courses, please visit the our school, or contact Department Chair Ms. Shelia Washington at shelia.washington@browardschools.com. We would be happy to answer any questions you have and to take you on a tour of the campus. On behalf of the faculty and staff of Hollywood Hills High School, we welcome you and we look forward to seeing you.