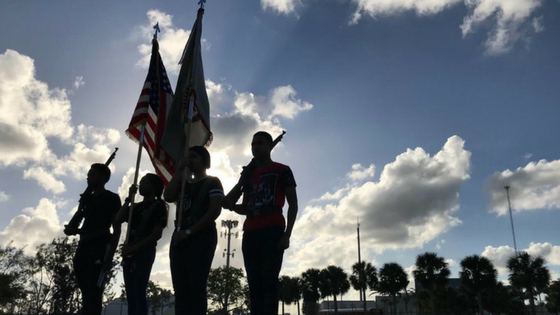 The mission of JROTC is "to motivate young people to become better citizens". Army JROTC is devoted to your growth as a student and as a person. This program gives you an opportunity for total development and to improve yourself in many ways. JROTC teaches self-discipline, self-confidence, and pride in a job well done, and it offers you challenges and opportunities to:
· Sharpen your communication skills
· Promote and encourage citizenship through participation in community service projects
· Develop your leadership potential
· Strengthen your self-esteem
· Improve your physical fitness
· Provide incentives to live drug-free
· Promote your graduation from high school and develop a solid foundation for career development
JROTC prepares high school students for responsible leadership roles while making them aware of the benefits of citizenship. The results are responsible cadets who are sure of themselves, can think on their own, and can express their ideas and opinions clearly and concisely.
Leadership and training goals are for cadets to:
1. Graduate from high school.
2. Be good citizens by knowing and exercising the rights, responsibilities, privileges, and freedoms of good citizenship.
3. Gain leadership potential and the ability to live and work cooperatively with others; demonstrate leadership in situations involving conflict resolution.
4. Achieve positive self-esteem and winning behavioral concepts in a culturally diverse society.
5. Learn the ability to think logically and to communicate effectively, with emphasis on effective oral communication.
6. Learn the importance of diet and of physical fitness in maintaining good health and appearance.
7. Gain an understanding of the history, purpose, and structure of Army JROTC.
8. Acquire proficiency in basic military skills (such as drill and ceremonies, first aid, and map reading) that are necessary for working effectively as a member of a team.
9. Learn the importance of citizenship through American history as it relates to America's culture and future from the Revolutionary war to the present.
10. Learn about the dangers of substance abuse and the importance of mental management, including goal setting and positive self-talk.
Senior Army Instructor for the JROTC
Chief Warrant Officer 3 (Ret) Ludzen Thelusma is the Senior Army Instructor for the JROTC program at Hallandale High School. He grew up in South Florida and is a graduate of Archbishop Curley Notre Dame High School. CW3(R) Thelusma enlisted in the Army in 1990. He was trained as a Bradley Fighting Vehicle Mechanic at Fort Knox, Kentucky. As an enlisted soldier he rose to the rank of Staff Sergeant (P). He then attended and graduated from the United States Army Warrant Officer Candidate School where he also later served as a Training Advising Counseling (TAC) Officer. He is a Desert Shield/ Desert Storm veteran. He served on numerous overseas tours of duty including Germany (2), Camp Stanley, South Korea, and Kuwait. He was also stationed at Fort Knox, KY, Fort Benning, GA, Fort Stewart, GA, Fort Rucker, AL. His last active duty assignment was as the Kuwait Land Forces adviser. His awards include the Meritorious Service Medal, Drivers and Mechanics Badge among others. He currently holds a B.S. degree from the University of Louisville, KY in Occupational Training and Development.