Welcome to Athletics at Hollywood Hills High School!

When the Great Scorer comes to mark against your name, he writes not that you won or lost, but how you played the game – Grantland Rice
Athletics at Hollywood Hills are a great source of pride, enthusiasm, and passion. HHHS offers teams that compete against many of the toughest teams in the county and state.

Although the mission of Hollywood Hills High School is to educate all students by teaching a comprehensive curriculum which emphasizes scholastic excellence, to complement the school's mission, the Hollywood Hills High School Athletics Department serves our student-athletes, helping them develop to be champions in life.

Hills athletics provides the opportunity for our students to develop a firm foundation in the areas of fundamentals, skills and strategies in a highly competitive and successful environment. More important, however, is the mission to give guidance in developing integrity, sportsmanship, self-concept, team concept, cooperative skills, self discipline and perspective in relation to sports competition. We will accomplish this by believing in our student-athletes, holding them accountable, and supporting them as they work to meet the expectations of our athletics program.

Our coaches understand the importance of modeling values such as sportsmanship, honesty, diversity, and integrity for our student-athletes and hold themselves accountable to doing that. They acknowledge their responsibility for insuring that the highest quality of instruction occurs in their programs and provide a learning environment that is safe and nurturing; where excellence is emphasized, and ultimately, one that will help produce young men and women who are good citizens that will contribute positively to their community.

At Hills, we believe our athletics programs help young men and women to develop skills that nurture the intrinsic qualities and values of sportsmanship. We also believe that honesty, diversity, and integrity create the core foundation of a Hollywood Hills High School student-athlete. HHHS Athletics provides each student with the opportunity to work with a team toward a common goal that shapes an athlete's character and strengthens their moral development. Our athletics programs not only provide a student with these opportunities but it prepares them to compete successfully at the next level, collegiately and in life. The confidence achieved through success in attaining one's individual goals is demonstrated in young person's poise, maturity and compassion.

A young person who feels good about themselves also accepts others more readily and is consequently more willing to reach out and assist their fellow women and men. It is our goal for our students to demonstrate a strong sense of justice in all of their endeavors, showing kindness, joy, self-discipline and perseverance.

Become a Spartan! We are the champions....!
Video courtesy Mr. John Landers
National Signing Day at Hills! Good luck Spartans!!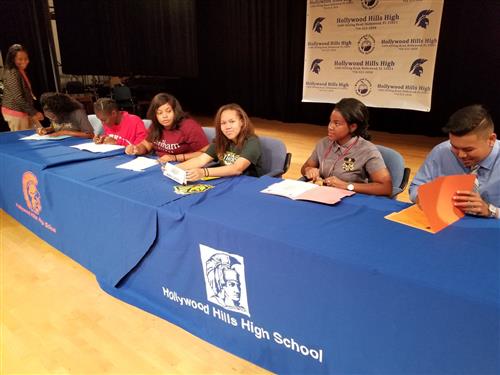 From the Athletic Director

Welcome to Hollywood Hills Athletics. As I set out to begin my first year as athletic director of Hollywood Hills High School, I see the 2017-2018 school year as an opportunity to reflect back and celebrate our rich tradition of Spartan successes, but also to look forward in fostering an enhanced championship culture that will help today and tomorrow's student-athletes to succeed in competition, in school and in life.

First and foremost, it's fitting to look back given all the celebration surrounding the school's 50th anniversary year. Hollywood Hills High School athletics has played a significant role in the lives of so many Hills alumni, and the trophy cases and record books serve as historical reminders of the tradition established by those that have walked the halls before us. I am fortunate to follow in the footsteps of Coach Valdez and countless others who put their student-athletes ahead of themselves in a way only true servant leaders can.

Beginning today and moving forward, it is with great confidence that I will set forth in building a world-class athletic program at Hollywood Hills High School. That's a big goal, but one that I truly feel is achievable when I look at the infrastructure in place and the potential ahead.

As your athletic director, I aim to be a resource to all.

For our student-athletes that means being an advocate, a listener, a teacher and a promoter of the greatness taking place daily in our halls, courts, and fields.
For our coaches that means working day-in and day-out to eliminate any obstacles that would hinder our success. I understand that the coaching experience involves much more than just the knowledge of their sport. My job is to offer assistance to both new and experienced coaches in the responsibilities that go along with coaching. Included are District policies; communication recommendations; State, District, and league and school expectations; and school paperwork.
For our parents that means being readily available to answer questions, provide insight and create a warm and hospitable environment for all to enjoy. Together – administration, coaches, families and student-athletes – we can achieve greatness!

Finally, I urge our student athletes and parents to review several important documents for HHHS student-athletes to print out and submit. Please click at the "Forms" link at the menu at left. And don't forget to follow us on Twitter at https://twitter.com/hhspartansports!

I look forward to serving you,

Kevin Perry, Athletic Director
Come Join a Winning Team!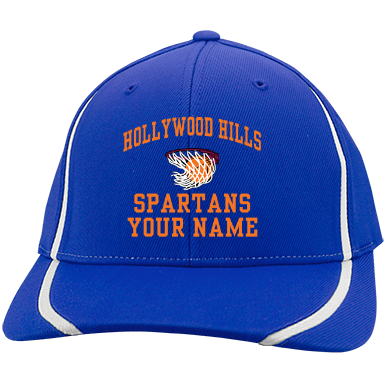 From our Assistant AD

My name is Manuel Valdez and I am the Assistant Athletic Director at Hollywood Hills High School. Through the years, I have had a great many opportunities to serve, first in the capacity as a First Sergeant with the United States Army and recently as a Senior Instructor at Hollywood Hills High School where I have helped assist in the growth and development of our school and youth. I am looking forward to continuing to serving our school in the additional capacity of Assistant Athletic Director.

I feel it is very important to instill good sportsmanship and conduct in our youth while encouraging a positive attitude. In fact, good sportsmanship is the expectation at all times from our teams and the athletes who represent HHHS. Our coaches fully expect that our teams and the student-athletes who represent HHHS conduct themselves in a positive light.

I will do my best to help promote a positive environment for our students to participate in during their athletic events at Hollywood Hills and to continue to better the services and programs available to our student-athletes. The success of our athletic teams and programs has been a constant source of pride that I share with our staff and community as a whole. Winners of multiple district, playoffs, and state titles has been the hallmark of our department's success and I will do my best to continue our winning ways.

Meet our Athletic Trainer!

Mr. William "Bill" Davis is the dedicated, board-certified athletic trainer for Hollywood Hills High School. Mr. Davis attends practices and games for Hills and also volunteers his time with community events hosted by Hollywood Hills teams throughout the year. Mr. Davis helps all student athletes maintain peak performance while preventing injuries. He also dedicates countless hours every year to sideline and athletic training room coverage, as well as education and club events for hundreds of youth and our school teams across the community. Mr. Davis is an excellent resource for parents, coaches and student-athletes.

Our trainer looks forward to keeping you and your team in top condition.
Meet Our Coaches!

Athletics play a key role at Hollywood Hills High School. Young people learn a great deal from their participation in interscholastic athletics. Lessons in sportsmanship, teamwork, competition and how to win and lose gracefully are an integral part of each team in our athletic program. Athletics play an important part, too, in helping the individual student develop a healthy self-concept as well as a healthy body. Athletic competition adds to our school spirit and helps all students – spectators as well as participants – develop pride in their school.

Hollywood Hills High School values the many dedicated coaches without whom these goals could not be achieved. We support coaches who want to teach the sport they love and provide their athletes opportunities for:

Physical, mental and emotional growth and development
Acquisition and development of team special skills
Team play with the development of such traits as loyalty, cooperation, fair play and other desirable social traits
Directed leadership and supervision that stresses self-discipline, responsibility, self-motivation, excellence and the ideals of good sportsmanship that makes for winning and losing graciously

Meet our community of trained, experienced, and dedicated coaches. They bring a wealth of knowledge and care deeply about the success of young men and women. We honor their commitment to passionately give back their time, and thank them for their tremendous efforts and dedication to their student athletes throughout the year!