Return to Headlines
Back to School Information
Textbook/Materials Pick up
MBE Materials/Textbook Pick Up will be held on Friday, August 14th Pick up Schedule
8:00 a.m. – 8:45 a.m. ~ Grade 1
9:00 a.m. – 9:45 a.m. ~ Grade 2
10:00 a.m. – 10:45 a.m. ~ Grade 3
11:00 a.m. – 11:45 a.m. ~ Grade 4 & IND
1:00 p.m. – 1:45 p.m. ~ Grade 5
*2:00 p.m. – 2:45 p.m. ~ Kindergarten*
*Welcome Parade for K-only along with Textbook Distribution*
Drive through the car loop and stop before the curve. Please ensure that the Teacher's name along with your child's first and last name is clearly displayed on the dashboard before entering. DO NOT get out of the car. A staff member will place student consumable textbooks inside the trunk.
Laptop distribution will take place in the Bus School in the rear of the school.
All of Broward's core instructional materials are also available to students electronically on the Student Resources Canvas Course (login required). Parents can find information about textbooks/materials here. (ELA, Math, Science, Social Studies) Textbooks/ Materials link
Virtual Open House
Manatee Bay Elementary School's
Open House Schedule
Meet and Greet your child's teacher in a "Live" Virtual Setting
Friday, August 14th
Schedule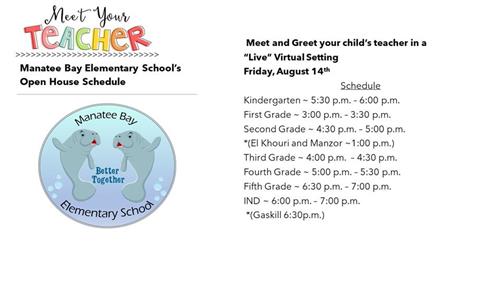 Please check your email between Wednesday, August 12th, and Thursday, August 13th for an email from your child's teacher that will contain the link to join in through Microsoft Teams. We're looking forward to meeting you in preparation for a great virtual learning experience.