Return to Headlines
Celebrity Turnaround Artist Black Violin Visits Walker Elementary School and Bethune Elementary School
March 12, 2019
WHO:
Students from Walker Elementary School and Bethune Elementary School, Celebrity Turnaround Artist Black Violin and School Staff
WHAT:
Students at Walker Elementary and Bethune Elementary will celebrate the infusion of the arts with hip hop string instrumentalists Black Violin. Black Violin will visit several classes at the two schools, perform for the students during assemblies, participate in question and answer sessions, and share personal and motivational stories. Both members of Black Violin, Wil B and Kev Marcus, are graduates of Dillard High School Center for the Arts.
WHEN / WHERE:
Thursday, March 14, 2019

Walker Elementary School
1001 NW 4th Street, Fort Lauderdale, Florida 33311
10 – 11:30 a.m.
Bethune Elementary School
2400 Meade Street, Hollywood, Florida 33020
1:45 – 3:15 p.m.
WHY:
Walker Elementary and Bethune Elementary are two of three schools in Broward County Public Schools selected to participate as Turnaround Arts Schools for the past four years. Turnaround Arts, a national program of the John F. Kennedy Center for the Performing Arts, provides resources to schools to increase student achievement, student attendance, and parent and community involvement. In addition, Turnaround Arts provides art supplies, licensing rights, kits for school musicals, and high-profile Turnaround Arts artists who work with students and teachers.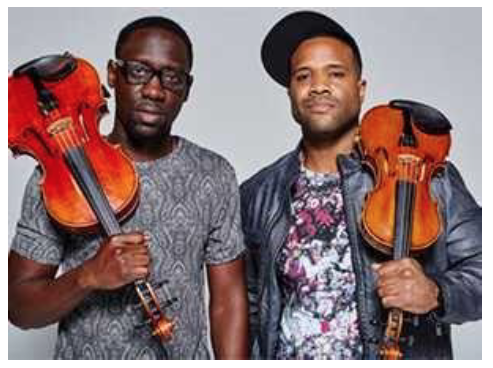 Pictured above: Black Violin
MEDIA ARE INVITED TO COVER THESE EVENTS.
###
ABOUT BROWARD COUNTY PUBLIC SCHOOLS
"Committed to educating all students to reach their highest potential."
Broward County Public Schools (BCPS) is the sixth-largest school district in the nation and the second-largest in the state of Florida. BCPS is Florida's first fully accredited school system since 1962. BCPS has more than 271,500 students and approximately 175,000 adult students in 234 schools, centers and technical colleges, and 88 charter schools. BCPS serves a diverse student population, with students representing 204 different countries and 191 different languages. Connect with BCPS: visit the website at browardschools.com, follow BCPS on Twitter @browardschools and Facebook at facebook.com/browardschools, and download the free BCPS mobile app.