Return to Headlines
Space Day Broward Launches at Rock Island Elementary School
Space Day Broward Launches at Rock Island Elementary School
Students Treated to a Space Day Event on Friday, August 19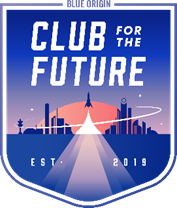 WHO:
Rock Island Elementary School Students, Faculty, and Staff; and Representatives from Blue Origin, Club for the Future, STEM2 Hub, and Space Florida
WHAT:
Space Day Broward — Broward County Public Schools (BCPS) students will soon see themselves in out-of-this-world careers as astronauts, engineers and spacecraft designers thanks to an interactive, space-themed celebration.
Hosted by Blue Origin's non-profit Club for the Future, in cooperation with STEM2Hub and Space Florida, Space Day Broward brings students a front-row seat to their futures. The students will:
Visit with Sharon Hagle, founder of

SpaceKids Globa

l, who became a Blue Origin astronaut on March 31, 2022, onboard New Shepard's fourth human spaceflight.
Hear from Thais Lage, BCPS alumnae and early career professional working as a test engineer at Blue Origin in Florida. Lage will share her career pathway and encourage students to consider pursuing an educational path that leads to an exciting career in STEM.
Participate in Postcards to Space. Students will create a postcard showcasing their vision for the future of life in space. Blue Origin will fly all postcards on a future New Shepard flight and return them to students stamped "Flown to Space."

Engage with the STEAM education non-profit Aldrin Family Foundation's

Giant Moon Map™.
Note: All activities will take place in person at Rock Island Elementary. BCPS will live stream the presentations to all elementary and middle schools throughout the District. All schools across BCPS can participate in Postcards to Space.
WHEN:
Friday, August 19, 2022
9:30 a.m. – Media check-in at the front office
9:45 – 10:30 a.m. – Space Day presentation and Q&A
10:30 – 11 a.m. – Postcard creation and Giant Moon Map™ activities in 5th grade classrooms
WHERE:
Rock Island Elementary School
2350 NW 19th Street
Fort Lauderdale, FL 33311
ON-SITE
CONTACTS:
Lisa V. Milenkovic, BCPS STEM+Computer Science Supervisor, Applied Learning Department, 754-321-2623
Rena Anderson, Club for the Future, 256-690-3838, clubforfuture@blueorigin.com
MEDIA ARE INVITED TO COVER THIS EVENT.
###
ABOUT BROWARD COUNTY PUBLIC SCHOOLS
"Educating all students to reach their highest potential."
Broward County Public Schools (BCPS) is the sixth largest school district in the nation and the second largest in the state of Florida. BCPS is Florida's first fully accredited school system since 1962, serving more than 256,000 students and approximately 110,000 adult learners in 240 schools, centers and technical colleges, and 90 charter schools. BCPS supports a diverse student population representing 170 different countries and speaking 147 languages. To connect with BCPS, visit browardschools.com, follow us on Twitter @browardschools, on Facebook at facebook.com/browardschools, and download the free BCPS mobile app.