Return to Headlines
BCPS 2022 School Grades Announced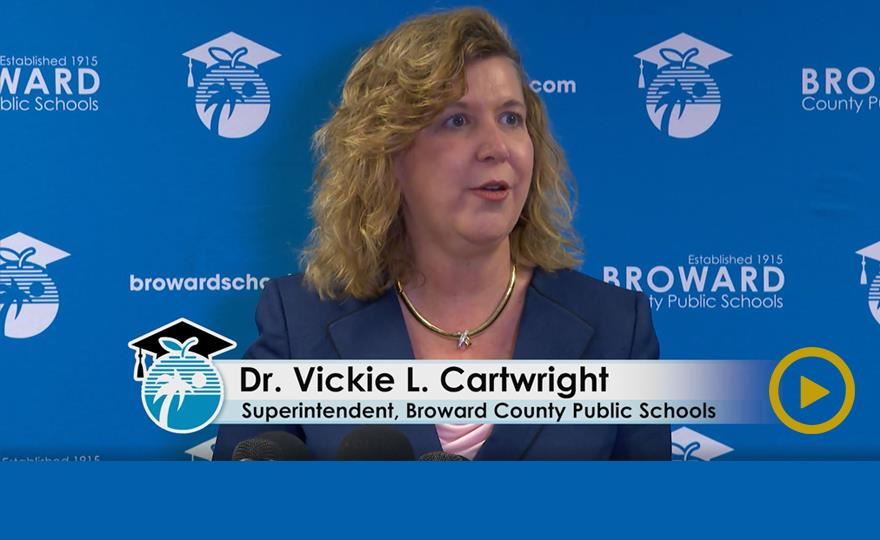 On Thursday, July 7, 2022, the Florida Department of Education released school grades for the 2021/22 school year. The overall results for Broward County Public Schools (BCPS) show continued progress on the state's school grades ratings. BCPS earned a District grade of "B," narrowly missing an "A" by one percentage point.
"I am incredibly proud of our students, teachers and school administrators, and thankful for the unwavering support of our School Board. The grades reflect the hard work, dedication and commitment to ensure our students had the learning opportunities needed to overcome the unfinished learning brought upon by the pandemic," said BCPS Superintendent Dr. Vickie L. Cartwright. "As we prepare the District for the upcoming school year, we are encouraged and motivated to earn and surpass the one percentage point needed to make Broward County Public Schools an "A" school district and remain steadfast in our commitment to improve student achievement at all schools."
When comparing school grades between 2019 and 2022:
45% of BCPS traditional schools remained or improved to an "A"

55% of BCPS traditional schools remained or improved to an "A" or "B"

79% of BCPS traditional schools remained or improved to an "A," "B" or "C"

BCPS has a higher percentage of schools earning a grade of "A" or "B" than the state average
School grades are based on a variety of factors, including results from the Florida Standards Assessments and End of Course exams, levels of achievement, learning gains, industry certifications earned and graduation rates.
For more information on 2022 school grades visit, https://www.fldoe.org/accountability/accountability-reporting/school-grades/.
###
ABOUT BROWARD COUNTY PUBLIC SCHOOLS
"Educating all students to reach their highest potential."
Broward County Public Schools (BCPS) is the sixth-largest school district in the nation and the second largest in the state of Florida. BCPS is Florida's first fully accredited school system since 1962, serving more than 256,000 students and approximately 110,000 adult learners in 241 schools, centers and technical colleges, and 91 charter schools. BCPS supports a diverse student population representing 170 different countries and speaking 147 languages. To connect with BCPS, visit browardschools.com, follow us on Twitter @browardschools, on Facebook at facebook.com/browardschools, and download the free BCPS mobile app.