Return to Headlines
BCPS Named 2022 District Project Based Learning Champion by PBLWorks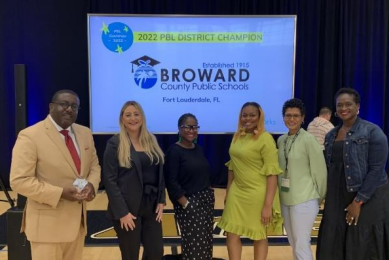 Broward County Public Schools (BCPS) is proud to be named 2022 District PBL Champion by PBLWorks, the leading provider of professional development for project-based learning (PBL). The recognition was announced on Thursday, June 30, 2022, at the 2022 PBL World Conference in American Canyon, California. (BCPS PBL Champions Cross-Functional team pictured on the left)
BCPS received the recognition for its commitment to better engage middle school students through the Reimagining Middle Grades (RMG) initiative, which aims to change the experience of middle school students by focusing on project-based learning, social and emotional learning, and classes designed to support individual students' academic and emotional needs.
"The Reimagining Middle Grades initiative is an innovative partnership with the Community Foundation of Broward that began four years ago to improve the middle school experience. Since we began implementation, with additional support from the iCAN grant, the District has seen the impact project-based learning can have on student engagement," said BCPS Superintendent Dr. Vickie L. Cartwright. "I am extremely proud of our District for embracing this intentional, methodical and focused approach to help our students reach their highest potential."
Through the RMG initiative, BCPS partnered with PBLWorks to provide professional learning to middle school principals at participating schools, academic coaches and more than 900 teachers on how to lead and implement Gold Standard PBL with the vision that each student would experience at least two projects per year. To date, the initiative has provided more than 1,400 hours of professional learning for teachers and administrators in different facets of PBL. Through this partnership BCPS has built and sustained PBL implementation by:
Ensuring participation from district leaders at all training sessions, the introduction of PBL Learning Walks and integrating more collaborative PBL-focused time into leadership meetings

Launching a PBL Ambassadors program and a PBL Coaching Network, which consists of PBLWorks trained teachers, leaders and coaches

Developing a series of in-house professional learning offerings to help onboard new staff in the foundations of PBL
Learn more about the BCPS Reimagining Middle Grades initiative at browardschools.com/middlegrades.
###
ABOUT BROWARD COUNTY PUBLIC SCHOOLS
"Educating all students to reach their highest potential."
Broward County Public Schools (BCPS) is the sixth largest school district in the nation and the second largest in the state of Florida. BCPS is Florida's first fully accredited school system since 1962, serving more than 256,000 students and approximately 110,000 adult learners in 241 schools, centers and technical colleges, and 91 charter schools. BCPS supports a diverse student population representing 170 different countries and speaking 147 languages. To connect with BCPS, visit browardschools.com, follow us on Twitter @browardschools, on Facebook at facebook.com/browardschools, and download the free BCPS mobile app.