Return to Headlines
Unified Dress Code: Uniform Policy
Park Springs participates in a school-wide mandatory unified dress program (uniform policy).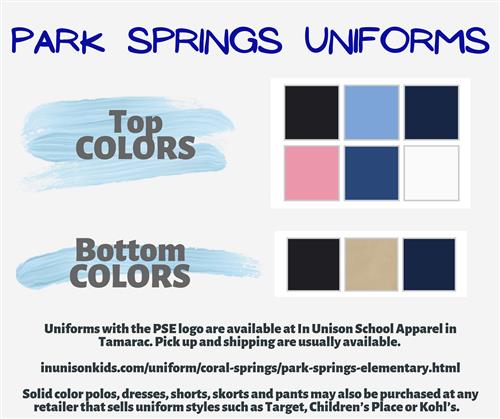 Benefits of a Uniform Policy
Research suggests that school uniforms
Improve discipline, self-esteem and self-respect.
Focus the student towards learning.
Eliminate the fear of whether their clothing choice will be acceptable by peers.
Strengthens school pride.
Identify student population from strangers on school grounds.
Cost effective.
All children should start wearing their school uniform on the very first day of school. Please call us at school if you have any questions or concerns.
Where to buy your child's uniforms
Uniforms can be purchased through In Unison (954-718-7030) https://inunisonkids.com, or you can purchase plain colored polo shirts at places such as Target, Kohl's, or Walmart.
Uniform Opt-Out Procedures
Parents who wish to opt out of the uniform policy must complete an application for exemption and submit to the school principal within the first ten (10) days of a student's initial attendance. Additional information on the waiver process for the school-wide mandatory unified dress program (school uniforms) can be found online athttp://www.broward.k12.fl.us/sbbcpolicies/. You may also contact the school if you need more information and/or assistance complying with the uniform policy.
A Parent or Guardian may request by mail, or in person, an application for an exemption from the uniform program. Exemption waivers must be completed by the 10th day of the student's enrollment.