Return to Headlines
Learning Never Closes at Parkside!
While all Broward County School buildings will remain closed through April 15th, 2020, Learning Never Closes at Parkside! We will begin online instruction on March 30th and you can access all of the resources you need right here on our web site.
Students will be using an online portal called Canvas to access all of their curriculum resources. Students will use their Single Sign-On account to connect to this platform. By tomorrow, your child's teacher should have made some type of contact through this portal. If you have not heard from your teacher or do not see any assignments posted for your child through Canvas, please reach out to the teacher via email or your class dojo, class tag, etc…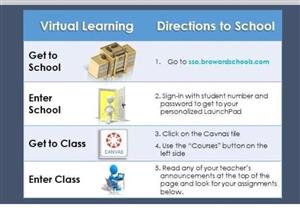 If your child did not receive a device during the two distribution days designated by the District, we have yet to hear if there will be a third distribution day. If we are able to get you a device from school this week, we will. Please contact the school between 8 am-1 pm Monday-Wednesday of this week for more information.
Teachers will be posting curricular activities using Canvas. Technical support for Canvas for parents and students can be found on the links below. Our school is working very closely with our District's Academics Department to provide the best possible instruction to our students. Our staff will be here to support you throughout this process. All teachers will have office hours where they will be available to assist you and your children. Please click here to view STAFF OFFICE HOURS.
Parkside will also be a feeding site for students serving breakfast and lunch. Breakfast will be 8:00-10:00 am and lunch from 11:00-1:00 pm. More information will be forthcoming about this as well.
Important Dates:
Monday, March 30th-Wednesday, April 1st -End of the 3rd quarter for students.
Monday, March 30th-Wednesday, April 1st –Technical Assistance onsite 8:00 am -1:00 pm
Monday, March 30th-Parkside feeding site begins
- Breakfast 8:00-10:00
- Lunch 11:00-1:00
Thursday, April 2nd-Instructional Staff will complete Grades
Friday, April 3rd-Instructional Staff day of learning
Monday, April 6th –4th quarter begins
Important Links:
As always, we are here to support you and will continue to keep you in the loop as information becomes available. Please make sure to listen to your ParentLinks. Please feel free to reach out to our staff should you have any questions or concerns. Thank you for your patience and effort during this challenging time.
---