Return to Headlines
Summer School at Parkside!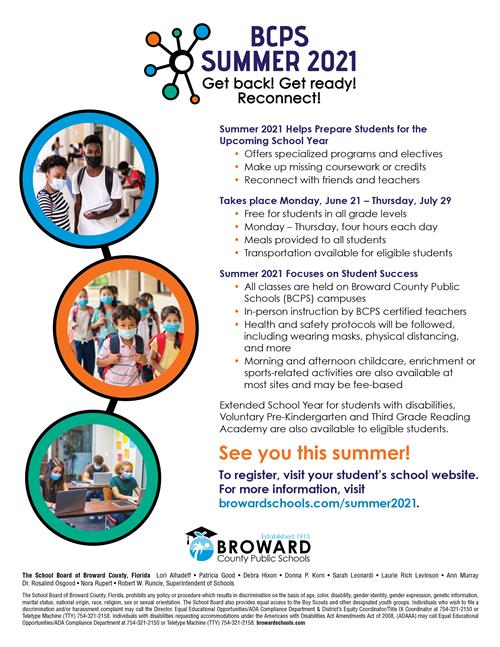 This summer, your student can get back on track academically, get ready for the upcoming school year, and reconnect with their friends, peers, and favorite teachers.
I want to personally invite your student to get back, get ready and reconnect with their friends and teachers during BCPS Summer 2021, a six-week summer experience that can help them accelerate their learning in a face-to-face setting ahead of the next school year.
The summer experience can also help your student make up courses and credits they've missed during distance learning.
Summer 2021 is a free six-week experience that starts Monday, June 21 and runs through Thursday, July 29, 2021. Certified teachers will provide face-to-face instruction and CDC safety guidelines will be followed including mandatory mask-wearing, physical distancing, and other health and safety protocols.
Transportation will be provided for those who reside outside of the 2 mile boundary and both breakfast and lunch will be served.
Classes will be held here at Parkside Elementary, Monday through Thursday, for four hours a day, from 8:30 A.M.-12:30 P.M.
All classes will be held in-person and on campus only – the Summer 2021 Get Back! Get Ready! Reconnect! experience does not include virtual eLearning.
Please note, seats are limited. Priority will be given to students based on academic needs and space available.
For more information, please contact our school at 754-322-7850.
We look forward to welcoming your student to Summer 2021, so they can Get Back! Get Ready! and Reconnect!