Return to Headlines
Six BCPS Schools Honored with Advanced Placement Computer Science Female Diversity Award
February 5, 2020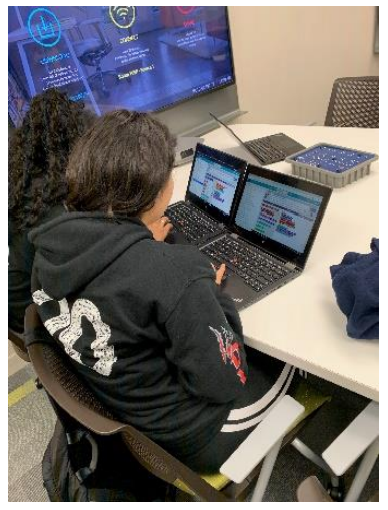 Broward County Public Schools (BCPS) congratulates six District high schools for earning the Advanced Placement (AP) Computer Science Female Diversity Award. This award is presented by the College Board and recognizes schools for increasing participation among female students in rigorous AP computer science courses. To receive the award, more than 50% of students taking the AP Computer Science Principles exams at a school must be female.
The goal is to inspire more girls to pursue STEM-related (science, technology, engineering and math) careers. Nationwide, College Board reports only 29% of students taking AP Computer Science exams are female. Studying computer science can open doors for students, giving them the tools to excel and setting them up for high-paying careers. According to Code.org, women who had the opportunity to take AP computer science courses were more likely to indicate interest in a computer science major in college.
Below are the six District schools that earned the award:
Atlantic Technical High School

Hollywood Hills High School

McArthur High School

Monarch High School

Sheridan Technical High School

Stranahan High School
Districtwide, BCPS is focusing on ensuring access to computer science for all students. Courses, curriculum and activities begin in elementary school and continue through high school. District staff work with teachers, school counselors and administrators to encourage participation. Schools also offer Girls Who Code clubs and Girl Powered robotics teams to increase participation among girls.
To learn more about the AP Computer Science Female Diversity Award, visit: https://apcentral.collegeboard.org/about-ap/awards/ap-computer-science-female-diversity-award.
For more information on STEM and computer science programs in BCPS, visit browardschools.com/stem.
###
ABOUT BROWARD COUNTY PUBLIC SCHOOLS
"Committed to educating all students to reach their highest potential."
Broward County Public Schools (BCPS) is the sixth-largest school district in the nation and the second largest in the state of Florida. BCPS is Florida's first fully accredited school system since 1962. BCPS has nearly 270,000 students and approximately 175,000 adult students in 241 schools, centers and technical colleges, and 89 charter schools. BCPS serves a diverse student population, with students representing 204 different countries and 191 different languages. To connect with BCPS, visit browardschools.com, follow us on Twitter @browardschools, on Facebook at facebook.com/browardschools.com and download the free BCPS mobile app.