Return to Headlines
Black Violin's Impossible Tour features BCPS Students Performance Takes Place on Friday, February 21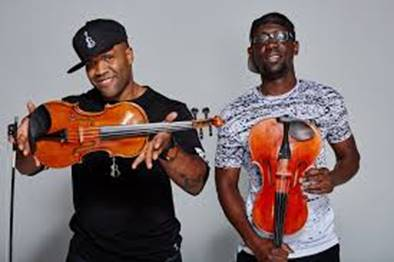 – Excellent Photo/Video Opportunity –
WHO: Hip hop duo Black Violin with students from Bethune Elementary School, Lake Forest Elementary School, North Andrews Gardens Elementary School and Walker Elementary School
WHAT: The award-winning Black Violin's classically trained string instrumentalists Wil B. and Kev Marcus, who both graduated from Dillard High School, invite elementary school students to perform on stage with them as part of their Impossible Tour.
WHERE: Broward Center for the Performing Arts
Au-Rene Theater
201 SW 5th Avenue, Fort Lauderdale, FL 33312
WHEN: Friday, February 21, 2020, beginning at 8 p.m.
(Student performances during the concert take place at approximately 9 p.m.)
WHY: Bethune Elementary, Lake Forest Elementary, North Andrews Gardens Elementary and Walker Elementary are Broward TurnAround Arts schools. Turnaround Arts Schools integrate arts into core content classrooms, align strategies with the District and have artists working with the schools.
Students performing in Black Violin's Impossible Tour were also previously chosen to perform with the duo at the grand opening of the REACH at the Kennedy Center for the Performing Arts in Washington, D.C.
Media is invited to cover this event.
###
ABOUT BROWARD COUNTY PUBLIC SCHOOLS
"Committed to educating all students to reach their highest potential."
Broward County Public Schools (BCPS) is the sixth-largest school district in the nation and the second largest in the state of Florida. BCPS is Florida's first fully accredited school system since 1962. BCPS has nearly 270,000 students and approximately 175,000 adult students in 241 schools, centers and technical colleges, and 89 charter schools. BCPS serves a diverse student population, with students representing 204 different countries and 191 different languages. To connect with BCPS, visit browardschools.com, follow us on Twitter @browardschools, on Facebook at facebook.com/browardschools.com and download the free BCPS mobile app.