Return to Headlines
Bob McKinney Named to the Florida High School Athletic Hall of Fame Class of 2020
May 21, 2020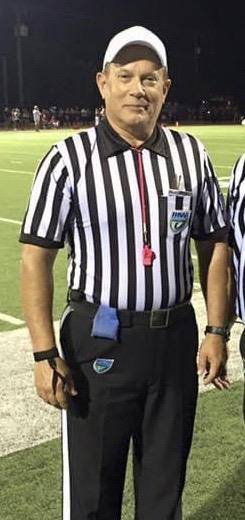 Congratulations to Bob McKinney on being inducted into the Florida High School Athletic Hall of Fame Class of 2020 by the Florida High School Athletic Association (FHSAA) for his commitment to high school athletics. McKinney, Broward County Public Schools (BCPS) coordinator of Advanced Academics, which includes Advanced Placement and Dual Enrollment, is also a talented multi-sports official for the FHSAA.
Throughout his sports officiating career, McKinney has called 468 football games, 1,030 basketball games, 184 baseball and softball contests, and 85 flag football contests for FHSAA member schools.
A highly regarded and sought-after contest official, McKinney's extensive knowledge and ability to command game rules and mechanics has led him to appear in 14 FHSAA state championship games in his career. He is also a four-time official of the Florida Athletic Coaches Association All-Star Basketball Game.
The 30th class to be inducted into the FHSAA Hall of Fame celebrates 100 years of interscholastic competition featuring some of the most accomplished student-athletes, coaches, administrators, officials and contributors from across the state. A special induction ceremony is scheduled to take place on September 27 at the Hilton University of Florida Conference Center in Gainesville.
###
ABOUT BROWARD COUNTY PUBLIC SCHOOLS
"Committed to educating all students to reach their highest potential."
Broward County Public Schools (BCPS) is the sixth-largest school district in the nation and the second-largest in the state of Florida. BCPS is Florida's first fully accredited school system since 1962. BCPS has nearly 270,000 students and approximately 175,000 adult students in 241 schools, centers and technical colleges, and 89 charter schools. BCPS serves a diverse student population, with students representing 204 different countries and 191 different languages. To connect with BCPS, visit browardschools.com, follow us on Twitter @browardschools, on Facebook at facebook.com/browardschools.com and download the free BCPS mobile app.