Return to Headlines
PLANTATION HIGH SCHOOL STUDENTS TAKE HOME BRAIN BOWL TROPHY…AGAIN!
February 13, 2020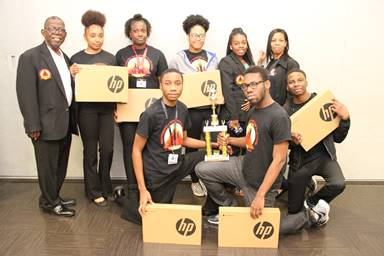 Pictured above from left to right: (Top Row) Coordinator Randy Scott, Brianna Kriger, Sophie Tessier, Team Captain Mariah Marrett, Assistant Coach Naelie Louis Pierre, Parent Volunteer Juliet Archibald, (Bottom row) Tydell Allen, Oluwakayode Adebusuyi, Keith Cooper.
For the second year in a row, students in the Mentoring Tomorrow's Leaders (MTL) program at Plantation High School won the Urban League of Broward County's Brain Bowl competition. Led by MTL Coordinator Randy Scott, the group of six students faced off against three other high school teams over two weekends to be named winners. The two-time champions received a trophy and a new laptop computer for each team member. The students will now advance to the state championships in Tampa to compete against other Florida winners.
MTL is a peer-to-peer mentoring and student leadership program that serves youth who are at-risk for not graduating and/or remaining in school. The program aims to decrease dropout rates, particularly among minority males, to ensure successful school graduation.

###
ABOUT BROWARD COUNTY PUBLIC SCHOOLS
"Committed to educating all students to reach their highest potential."
Broward County Public Schools (BCPS) is the sixth-largest school district in the nation and the second-largest in the state of Florida. BCPS is Florida's first fully accredited school system since 1962. BCPS has nearly 270,000 students and approximately 175,000 adult students in 241 schools, centers and technical colleges, and 89 charter schools. BCPS serves a diverse student population, with students representing 204 different countries and 191 different languages. To connect with BCPS, visit browardschools.com, follow us on Twitter @browardschools, on Facebook at facebook.com/browardschools.com and download the free BCPS mobile app.