Return to Headlines
Check Out the 2018/19 Community Connections Course Catalog
October 26, 2018
Broward County Public Schools (BCPS) families are invited to check out the 2018/19 Community Connections Course Catalog, which is a collaboration between Broward County Public Schools (BCPS) Office of Family and Community Engagement and local organizations.
The Community Connections Course Catalog provides details on a variety of workshops, activities, events and opportunities designed to help parents and guardians support their child's academic achievement and educational journey. From understanding your child's report card and navigating college and financial aid applications – to supporting your child's social and emotional learning, there are courses and resources to help.
To view the Community Connections Course Catalog, visit browardschools.com/communityconnections. In addition, from this website you can also check out a month-by-month calendar of events, for the latest information as new learning opportunities for families are added throughout the school year.
To learn more about the Office of Family and Community Engagement and the many services this office provides for students and families, visit browardschools.com/FACE or call 754-321-1599.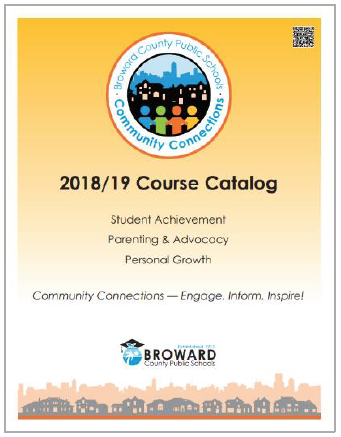 ###
ABOUT BROWARD COUNTY PUBLIC SCHOOLS
"Committed to educating all students to reach their highest potential."
Broward County Public Schools (BCPS) is the sixth-largest school district in the nation and the second-largest in the state of Florida. BCPS is Florida's first fully accredited school system since 1962. BCPS has more than 271,500 students and approximately 175,000 adult students in 234 schools, centers and technical colleges, and 88 charter schools. BCPS serves a diverse student population, with students representing 204 different countries and 191 different languages. Connect with BCPS: visit the website at browardschools.com, follow BCPS on Twitter @browardschools and Facebook at facebook.com/browardschools, and download the free BCPS mobile app.