Return to Headlines
Summer 2019 Resiliency Services Offered at Three BCPS Locations in Parkland and Coral Springs
May 7, 2019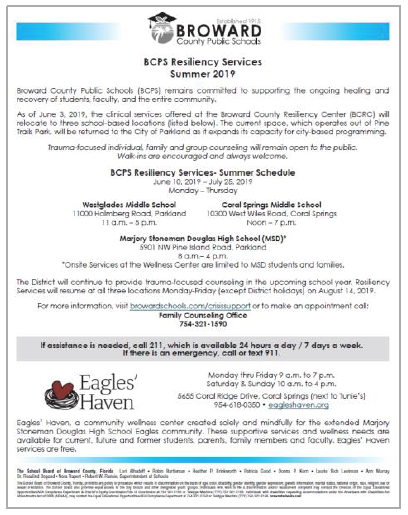 Broward County Public Schools (BCPS) remains committed to supporting the ongoing healing and recovery of students, faculty, and the entire community.
Beginning Monday, June 10, 2019, Resiliency Services for Summer 2019 will be offered at Westglades Middle School, Coral Springs Middle School and Marjory Stoneman Douglas High School (MSD)* (*Resiliency Services on the MSD campus are limited to MSD students and families).
As of Monday, June 3, 2019, the clinical trauma-focused services offered at the Broward County Resiliency Center (BCRC) will relocate to the three school-based locations in Parkland and Coral Springs. The current space, which operates out of Pine Trails Park, will be returned to the City of Parkland as it expands its capacity for city-based programming.
Trauma-focused individual, family and group counseling will remain open to the public. Walk-ins are encouraged and always welcome. For more information on the summer schedule, view the BCPS Resiliency Services Summer 2019 flyer at browardschools.com/crisissupport.
###


ABOUT BROWARD COUNTY PUBLIC SCHOOLS
"Committed to educating all students to reach their highest potential."
Broward County Public Schools (BCPS) is the sixth-largest school district in the nation and the second-largest in the state of Florida. BCPS is Florida's first fully accredited school system since 1962. BCPS has more than 271,500 students and approximately 175,000 adult students in 234 schools, centers and technical colleges, and 88 charter schools. BCPS serves a diverse student population, with students representing 204 different countries and 191 different languages. Connect with BCPS: visit the website at browardschools.com, follow BCPS on Twitter @browardschools and Facebook at facebook.com/browardschools, and download the free BCPS mobile app.