Return to Headlines
Broward County School Board Approves 2020/21 School Year Calendar The first day of school is Wednesday, August 19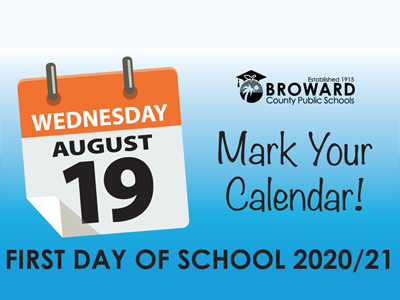 The School Board of Broward County, Florida voted to approve the 2020/21 school year at its meeting on Tuesday, December 10, 2019. Broward County Public Schools (BCPS) students will start the 2020/21 school year on Wednesday, August 19, 2020. The first day for teachers is Wednesday, August 12, 2020. The new school year calendar follows the current school year's early, midweek start.
A highlight of the 2020/21 school year calendar is Thanksgiving week. Students and teachers will enjoy a weeklong school Thanksgiving break from November 23 – 27, 2020. Key calendar dates include:First day of school – Wednesday, August 19, 2020
School Thanksgiving Break – Monday, November 23 through Friday, November 27, 2020

School Winter Break – Monday, December 21, 2020 through Friday, January 1, 2021

School Spring Break – Monday, March 22 through Friday, March 26, 2021

Last day of school – Wednesday, June 9, 2021
The approved calendar also includes 10 teacher planning days, six early release days and days designated for interim report cards, report cards, holidays and contingencies for up to six hurricane makeup days, if needed. To view the 2020/21 accessible school year calendar, visit browardschools.com/calendars.
###
ABOUT BROWARD COUNTY PUBLIC SCHOOLS
"Committed to educating all students to reach their highest potential."
Broward County Public Schools (BCPS) is the sixth-largest school district in the nation and the second-largest in the state of Florida. BCPS is Florida's first fully accredited school system since 1962. BCPS has nearly 270,000 students and approximately 175,000 adult students in 241 schools, centers and technical colleges, and 89 charter schools. BCPS serves a diverse student population, with students representing 204 different countries and 191 different languages. To connect with BCPS, visit browardschools.com, follow us on Twitter @browardschools, on Facebook at facebook.com/browardschools.com and download the free BCPS mobile app.