Return to Headlines
Broward Technical Colleges No. 1 in the State for Industry Certification Awards
Tuesday, June 13, 2017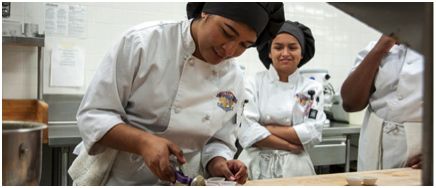 McFatter Technical College students prepare for certification in commercial foods and culinary arts.
For a second consecutive year, students attending Broward Technical Colleges earned a record number of industry certifications, as 712 students received 952 nationally recognized industry certifications. According to results recently released by the Florida Department of Education (FLDOE) for the 2016/17 school year, Broward County Public Schools (BCPS) adult students at Atlantic Technical College, McFatter Technical College and Sheridan Technical College, outperformed the state by more than 15 percent. Last year, Broward Technical Colleges led the state with 702 qualifying credentials earned.
The achievements of BCPS technical college students in earning industry certifications, now qualifies the District to be eligible for $683,363 from the state as part of the FLDOE postsecondary Florida Career and Professional Education Act (CAPE) Performance Incentive Funding. Funds are used to continue updating technology and equipment to meet industry requirements and standards.
"This is a win-win for our students and business communities," said BCPS Superintendent Robert W. Runcie. "Our technical colleges provide students with rigorous and relevant career-theme courses and training that lead to industry certification. Our business community benefits from a more knowledgeable and highly-skilled workforce with certifiable skills."
The District's three technical colleges offer more than 70 certificate programs for careers in architecture and construction; arts, A/V technology and communications; business management and administration; education and training; health science; hospitality and tourism; human services; information technology; law, public safety and security; manufacturing; marketing, sales and service; and transportation, distribution and logistics. To learn more about Broward Technical Colleges, visit browardtechnicalcolleges.com.

###
ABOUT BROWARD COUNTY PUBLIC SCHOOLS
"Committed to educating all students to reach their highest potential."
Broward County Public Schools (BCPS) is the sixth largest school district in the nation and the second largest in the state of Florida. BCPS is Florida's first fully accredited school system since 1962. BCPS has over 271,000 students and approximately 175,000 adult students in 236 schools, centers and technical colleges, and 99 charter schools. BCPS serves a diverse student population, with students representing 208 different countries and 181 different languages. To learn more, visit browardschools.com. Follow BCPS on Twitter @browardschools and Facebook at facebook.com/browardschools, and download the
free BCPS mobile app.