Return to Headlines
Superintendent Robert W. Runcie Participates in White House Discussion on Computer Science in School
Monday, September 26, 2016

Broward County Public Schools (BCPS) Superintendent Robert W. Runcie, along with BCPS STEM Science Supervisor Dr. Lisa Milenkovic and BCPS Office of School Performance and Accountability Director Christine Semisch, spent today, Monday, September 26, 2016, at the White House. They were invited to participate in a discussion on the importance of regional partnerships to K-12 computer science.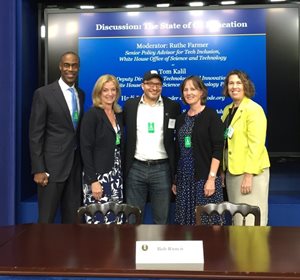 During today's White House event, discussions highlighted the need to establish regional collaborators to build computer science communities and organizations that are dedicated to supporting, advocating for and funding work in this area. Superintendent Runcie participated in a panel discussion and shared the District's efforts to increase students' access to computer science in schools.
BCPS was the first school district in the nation to partner with the national organization Code.org, to expand computer science opportunities for students and increase professional development opportunities for teachers. In addition, BCPS received a $1.2 million grant from the National Science Foundation to develop a national model for integrating computer science into the elementary school day.
Earlier this month, BCPS was also recognized during the White House Summit on Computer Science for All for its commitment to expand the District's computer science initiative, called #BrowardCodes, in 2016/17 to positively impact more than 50,000 students with computer science offerings at all 236 BCPS K-12 schools. Through a Professional Learning Partnership with Code.org, BCPS is also building a cohort of 20 master teacher trainers and increasing the number of computer science trained K-12 teachers to over 1,000. Eight middle schools also now offer the Exploring Computer Science course, and 2,000 high school students are enrolled in computer science courses at the college level through Advanced Placement or college dual enrollment.
"It is a tremendous honor to be invited to the White House to share information on the great work being done across Broward County Public Schools to increase access to computer science in schools," said Superintendent Runcie. "Computer science is a foundational field that opens doors to a variety of high-wage, in-demand career fields. We appreciate the ongoing support from our partners, Code.org and the National Science Foundation, who are instrumental in the success of our computer science initiative. Together, we are creating new educational opportunities for our students."
To learn more about the #BrowardCodes initiative, visit browardschools.com/browardcodes.
Pictured Above (left to right): BCPS Superintendent Robert W. Runcie; Christine Semisch, BCPS Office of School Performance and Accountability, Director, Hadi Partovi, Founder and CEO of Code.org; Dr. Jan Cuny, Program Director for Computing Education, National Science Foundation; and Dr. Lisa Milenkovic, BCPS STEM Science Supervisor.
###

ABOUT BROWARD COUNTY PUBLIC SCHOOLS
"Committed to educating all students to reach their highest potential."
Broward County Public Schools (BCPS) is the sixth largest school district in the nation and the second largest in the state of Florida. BCPS is Florida's first fully accredited school system since 1962. BCPS has over 271,000 students and approximately 175,000 adult students in 236 schools, centers and technical colleges, and 101 charter schools. BCPS serves a diverse student population, with students representing 208 different countries and 181 different languages. To learn more, visit browardschools.com. Follow BCPS on Twitter @browardschools and Facebook at facebook.com/browardschools, and download the free BCPS mobile app.