Return to Headlines
BCPS Spotlighted by the White House for Commitment to Computer Science for All Students
Wednesday, September 14, 2016

Broward County Public Schools (BCPS) is being spotlighted by the White House for its focus on expanding access to computer science in schools. Today, September 14, 2016, BCPS STEM Science Supervisor Dr. Lisa Milenkovic and BCPS Office of School Performance and Accountability Director Christine Semisch, both of whom are leaders in the BCPS computer science initiative #BrowardCodes, participated in the White House Summit on Computer Science for All.

The White House Summit on Computer Science for All is part of President Barack Obama's call to action to expand computer science in K-12 classrooms, and for education leaders, federal agencies, companies, foundations and non-profits to do more to make this critical subject available to students.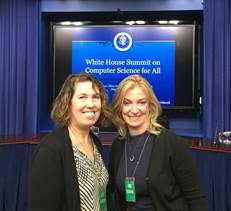 In 2013/14, BCPS became the first school district in the nation selected by the national organization, Code.org, to participate in a unique partnership designed to increase access to computer science courses, curriculum and resources in schools. Since then, computer science has grown among BCPS elementary and middle schools, and is now offered at every BCPS high school. In addition, in May 2016, through BCPS advocacy at the state level, Florida passed academic Computer Science standards.

"We are proud to have our #BrowardCodes initiative spotlighted by the White House. Whether students choose to pursue a career in computer science or apply the skills they are learning to other paths, computer science opens doors to the future," said BCPS Superintendent Robert W. Runcie. "Technology is embedded in all aspects of our global workforce. By ensuring our students have access to computer science instruction, we are increasing their awareness about high-wage, high-demand careers, which they might not otherwise have considered. That is what makes this so exciting."

During today's White House Summit, BCPS was recognized for its commitment to expand #BrowardCodes in 2016/17 to positively impact more than 50,000 students with computer science offerings at all 236 BCPS K-12 schools. In addition, through a Professional Learning Partnership with Code.org, BCPS is building a cohort of 20 master teacher trainers and increasing the number of computer science trained K-12 teachers to over 1,000. Eight middle schools also now offer the Exploring Computer Science course, and 2,000 high school students are enrolled in computer science courses at the college level through Advanced Placement or college dual enrollment. The #BrowardCodes initiative will continue to broaden participation by hosting clubs, computer science fairs and app challenges/codefests, in partnership with events and initiatives within BCPS that are not typically related to computer science.

"It was an honor to represent BCPS during the White House Summit on Computer Science for All," said Semisch. "We're proud of the work being done across all of our schools – from elementary through high schools- to provide students with as many opportunities as possible to explore this foundational field."

Dr. Milenkovic agreed and adds, "Today's event at the White House is helping to raise awareness about the need to provide students with courses, curriculum and high-quality instruction in computer science. It is inspiring to see the tremendous support from other districts and industry leaders for expanding computer science in schools."

To learn more about how BCPS is expanding computer science opportunities for students, visit browardschools.com/browardcodes.
###

ABOUT BROWARD COUNTY PUBLIC SCHOOLS
"Committed to educating all students to reach their highest potential."
Broward County Public Schools (BCPS) is the sixth largest school district in the nation and the second largest in the state of Florida. BCPS is Florida's first fully accredited school system since 1962. BCPS has over 271,000 students and approximately 175,000 adult students in 236 schools, centers and technical colleges, and 101 charter schools. BCPS serves a diverse student population, with students representing 208 different countries and 181 different languages. To learn more, visit browardschools.com. Follow BCPS on Twitter @browardschools and Facebook at facebook.com/browardschools, and download the free BCPS mobile app.