Return to Headlines
BCPS Spotlighted by The White House for Commitment to Increasing Computer Science in Schools
Saturday, January 30, 2016

The White House is spotlighting Broward County Public Schools (BCPS) for its commitment to providing students with increased access to computer science. The District's goal is for every student to participate in~computer science courses and curriculum while in school.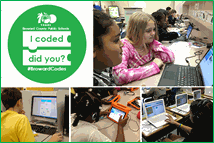 The District's ongoing computer science efforts support President Barack Obama's broad call to action to expand computer science in K-12 classrooms, and for education leaders, federal agencies, companies, foundations, and non-profits to do more to make this critical subject available to students. Click the link to read today's release from The White House.
"We're honored to have The White House highlight our District's strong commitment to providing all students with access to computer science," said Superintendent Robert W. Runcie. "Computer science is one of the fastest growing fields in the world. By allowing our students to experience this foundational field - and build on their skills from elementary through high school, we are opening doors to new career options, while also increasing students' problem solving abilities, critical thinking skills and creativity, all of which will positively impact them throughout their education and futures."
In 2013, BCPS became the first school district in the nation to partner with the national, non-profit organization Code.org to increase computer science in schools. Since the start of the partnership, BCPS has increased the number of students participating in computer science courses and curriculum from 240 students in 2013, to now include more than 38,000 elementary, middle and high school students. 100 percent of the District's high schools now offer computer science courses for students.
The District's computer science initiative does not just impact students. Since 2014, more than 560 BCPS teachers have also participated in professional development related to computer science in the classroom, provided by Code.org.
In addition, BCPS is the recipient of a $1.2 million grant from the National Science Foundation to develop a national model for integrating science, technology, engineering and math (STEM) and computer science in elementary schools.
To learn more about the District's computer science initiative, visit Broward Codes on the District's Homepage.
###
ABOUT BROWARD COUNTY PUBLIC SCHOOLS
CELEBRATING 100 YEARS OF EDUCATIONAL EXCELLENCE - Est 1915
Broward County Public Schools (BCPS) is the sixth largest public school system in the United States and the second largest in the state of Florida. BCPS is Florida's first fully accredited school system since 1962. BCPS has over 265,000 students and approximately 175,000 adult students in 238 schools, centers and technical colleges, and 103 charter schools. BCPS serves a diverse student population. Students are from 208 different countries and speak 181 different languages. For more information about BCPS and the Centennial Celebration, visit browardschools.com, follow BCPS on Twitter @browardschools, like BCPS on Facebook at facebook.com/browardschools, and download the free BCPS mobile app.