Return to Headlines
Record Number of Participants Attend Ed Talk 2015/16
Saturday, January 23, 2016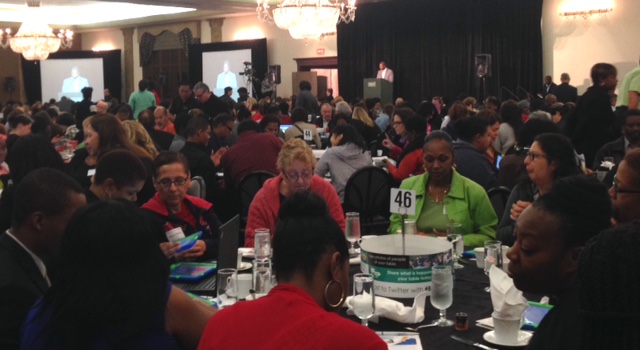 On, Saturday, January 23, 2016, a record turnout of approximately 700 people, including parents, students, business leaders, elected officials and community members joined Broward County School Board members, Broward County Public Schools (BCPS) Superintendent Robert W. Runcie and District staff for Ed Talk 2015/16. The fourth annual event took place at the Signature Grand in Davie, from 9 a.m. – noon.
This year's community forum engaged participants in discussions to develop and update the District's educational strategies, and advance the three core components of the District's Strategic Plan – high-quality instruction, continuous improvement and effective communication. Input and feedback received during today's Ed Talk event will be used to advance the District's vision and commitment to educating today's students to succeed in tomorrow's world.
Ed Talk's interactive discussion sessions allowed participants to instantly provide feedback and responses to polling questions via laptops at every table and on personal mobile devices. Among the topics of discussion: integrating technology in education, literacy, early childhood learning, and preparing students for college and careers.
"We had an incredible turnout on a beautiful South Florida morning. It's exciting and encouraging to see so many people committed to making a difference in education," said Superintendent Runcie. "The success of our students and schools impacts all aspects of our community. The important discussions that took place today will help move our District forward for the next 100 years of educational excellence."
For more information about Ed Talk, visit browardschools.com/edtalk.
###
ABOUT BROWARD COUNTY PUBLIC SCHOOLS CELEBRATING 100 YEARS OF EDUCATIONAL EXCELLENCE - Established 1915
Broward County Public Schools (BCPS) is the sixth largest public school system in the United States and the second largest in the state of Florida. BCPS is Florida's first fully accredited school system since 1962. BCPS has over 265,000 students and approximately 175,000 adult students in 238 schools, centers and technical colleges, and 103 charter schools. BCPS serves a diverse student population. Students are from 208 different countries and speak 181 different languages. For more information about BCPS and the Centennial Celebration, visit browardschools.com, follow BCPS on Twitter @browardschools, like BCPS on Facebook at facebook.com/browardschools, and download the free BCPS mobile app.