Return to Headlines
Broward County Public Schools Honors U.S. Military Veterans and Active-Duty Military Personnel
November 5, 2019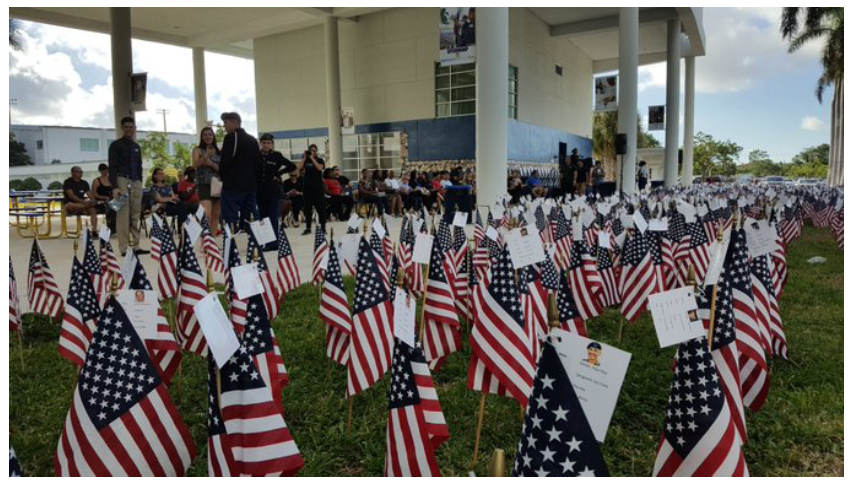 Pompano Beach High School Fallen Heroes Ceremony
On Monday, November 11, Broward County Public Schools (BCPS) joins the nation in observing Veterans Day, honoring those who have served in the United States Armed Forces and expressing gratitude for their great sacrifices to preserve our freedom. District schools have a rich history of participating in Veterans Day activities and recognizing those who have served. Following are a few of many observances taking place this week:
Thursday, November 7, 2019, at 8:30 a.m.
Pompano Beach High School
600 NE 13th Avenue
Pompano Beach, FL 33060
Pompano Beach High School Army JROTC will host its annual Fallen Heroes Ceremony and flag posting ceremony for each service member lost since the beginning of the War on Terrorism. More than 6,970 service members are being honored. Family members of the fallen service members, veterans and current service members will also be recognized and honored. This event is open to the public, and veterans and family members are encouraged to attend for recognition.
Thursday, November 7, 2019, at 8 a.m.
Sawgrass Elementary School
12655 NW 8th Street
Sunrise, FL 33325
Sawgrass Elementary School is hosting its annual Military Appreciation event to honor veterans of all branches of the armed forces and their Sawgrass Elementary families. The special celebration includes complimentary breakfast and expressions of appreciation by students to veterans and their families for their service and sacrifice, followed by a parade honoring the military families.
Friday, November 8, 2019, 2:50 p.m.
Westglades Middle School
11000 Holmberg Road
Parkland, FL 33076
Westglades Middle School is hosting a Veterans Day special assembly for community veterans and active-duty military personnel. It will include a military musical medley by the school's band recognizing veterans by their military branches, and a special presentation on the origin of Veterans Day. Students will show their appreciation for the dedication and sacrifice made by veterans, service members and their families.
All BCPS schools and administrative offices will be closed on Monday, November 11, 2019, in observance of Veterans Day.
MEDIA ARE INVITED TO COVER THESE EVENTS.
###
ABOUT BROWARD COUNTY PUBLIC SCHOOLS
"Committed to educating all students to reach their highest potential."
Broward County Public Schools (BCPS) is the sixth-largest school district in the nation and the second-largest in the state of Florida. BCPS is Florida's first fully accredited school system since 1962. BCPS has nearly 270,000 students and approximately 175,000 adult students in 241 schools, centers and technical colleges, and 89 charter schools. BCPS serves a diverse student population, with students representing 204 different countries and 191 different languages. To connect with BCPS, visit browardschools.com, follow us on Twitter @browardschools, on Facebook at facebook.com/browardschools.com and download the free BCPS mobile app.