Return to Headlines
Summer of STEAM: Take the "MODS Challenge" All Summer Long
The Museum of Discovery and Science Partnership with Broward County Public Schools Offers Innovative Virtual STEAM Curriculum for Students Throughout the Summer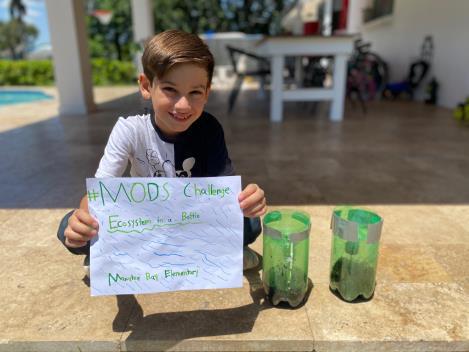 FORT LAUDERDALE, FLA (May 28, 2020) – Thanks to a partnership between the Museum of Discovery and Science (MODS) and Broward County Public Schools (BCPS), students across the District can continue to use their critical thinking skills and creativity to tackle an array of unique FREE STEAM (Science, Technology, Engineering, Arts and Math) learning activities all summer long.
MODS developed eight weeks of fun, innovative and STEAM project-based learning units with multiple science activities students can do at home and share on social media.
The slate of activities that comprises the MODS Challenge was part of the District's transition to distance learning due to the coronavirus pandemic and aimed to engage students with hands-on learning opportunities. The MODS Challenge offers a STEAM curriculum aligned with core educational standards. Through the challenges, students also have access to some of the IMAX® films in MODS' extensive library of documentaries. All MODS Challenge modules are available for students to access for free all summer long. Parents and students can pick the theme(s) in which they are interested in learning.
Over the final week of the school year, MODS will launch one more challenge, the science behind hurricanes and climate. This final challenge is particularly timely as the start of hurricane season begins. The virtual Eye of the Storm series is a collaboration of MODS, Florida International University's (FIU) International Hurricane Research Center (IHRC) and is sponsored by Florida Division of Emergency Management (FDEM) and IHRC.
"As an epicenter for STEM in South Florida and a longstanding educational partner of the District, we were excited to engineer a project-based weekly curriculum that connects students to inspiring and relevant science," said Joseph P. Cox, president and CEO of MODS. "The upcoming module on hurricanes and climate is sourced directly from MODS' Eye of the Storm FREE virtual series and brings together local experts and the most up-to-date STEM information for students to learn the science behind severe weather."
"Through the MODS Challenges, we are engaging students with unique learning opportunities to spark their imaginations and develop their critical thinking and problem-solving skills – all while having fun," said BCPS Superintendent Robert W. Runcie. "We appreciate the ongoing collaboration with the Museum of Discovery and Science in providing these challenges. It's an example of the positive impact we can have on our students by working together through community partnerships."
The MODS Challenges are accessible by BCPS students via Canvas and on the MODS website, mods.org/modschallenge.
MODS Challenge themes include:
Environment and Nature

Engineering

Physical Science

Ecosystems

Health and Wellness

Space

Animals

Eye of the Storm: Hurricanes and Climates (launching week of June 1)
Students can share their projects with MODS and BCPS through Twitter using @browardschools and @modsftl with #MODSChallenge. Special thanks to Wells Fargo and Ultimate Software for sponsoring the MODS Challenge.
###
MEDIA CONTACTS
Broward County Public Schools | 754.321.2300
Cathleen Brennan// cathleen.brennan@browardschools.com and bcps.pio@browardschools.com
Kip Hunter Marketing | 305.803.9177
Nicole Lewis // nicole@kiphuntermarketing.com
Museum of Discovery and Science | 954.713.0901
Andi Fuentes // andrea.fuentes@mods.net
ABOUT MUSEUM OF DISCOVERY AND SCIENCE
Founded in 1976 as the Discovery Center, today MODS is at the forefront of science education, innovation and exploration. The Museum showcases more than 300 interactive exhibits, immersive films and experiential programs. With a designated STEM Center and an aviation themed makerspace, The Leighton Family Hangar, MODS is committed to engaging, enriching and inspiring tomorrow's workforce - today. The Museum celebrates diversity and welcomes visitors from all walks of life. MODS is closed to the public on Monday's and three days of the year: One day in the fall for the Annual Gala (October 24, 2020), Thanksgiving, and one day in the spring for its Annual Wine, Spirits and Culinary Celebration (March 2021). Hours are Tuesday through Saturday from 10 a.m. to 1 p.m. and 2 p.m. to 5 p.m. and Sunday from 12 p.m. to 2 p.m. and 3 p.m. to 5 p.m. MODS is located downtown at 401 SW Second Street, Fort Lauderdale, Florida 33312. For more information about the Museum, please visit mods.org or call 954.467.MODS (6637).
Like us or follow us on Social Media.
Facebook: facebook.com/MODSFTL
Twitter: twitter.com/modsftl
Instagram: instagram.com/modsftl
ABOUT BROWARD COUNTY PUBLIC SCHOOLS
"Committed to educating all students to reach their highest potential."
Broward County Public Schools (BCPS) is the sixth-largest school district in the nation and the second-largest in the state of Florida. BCPS is Florida's first fully accredited school system since 1962. BCPS has nearly 270,000 students and approximately 175,000 adult students in 241 schools, centers and technical colleges, and 89 charter schools. BCPS serves a diverse student population, with students representing 204 different countries and 191 different languages. To connect with BCPS, visit browardschools.com, follow us on Twitter @browardschools, on Facebook at facebook.com/browardschools.com and download the free BCPS mobile app.