Return to Headlines
BCPS High School Federal Graduation Rate Rises to All Time High at 86%
Today, January 9, 2020, the Florida Department of Education released graduation rates for the 2018/19 school year. Broward County Public Schools (BCPS) is proud to announce the District's Federal Graduation Rate (includes traditional high schools, centers and charter schools) rose to 86.2%, which is nearly 15 percentage points higher than in 2011/12. The graduation rate for traditional District high schools only (excludes centers and charter schools) maintained its highest level from 2017/18, at 95.1%.
Additional highlights:
BCPS 2018/19 Federal Graduation Rate of 86.2% is the highest since the Federal Uniform Graduation Rate was adopted in 2010/11 and marks an increase of almost 2 percentage points from 2017/18 (84.3%). This is the biggest increase among the top five largest school districts in Florida.

Graduation rates also increased among the following: Black/African American students (81.6%, 2.2 percentage point increase from 2017/18), Hispanic students (86.9%, 1.4 percentage point increase from 2017/18) and white students (91.6%, 1.5 percentage point increase from 2017/18).

Black/African American students earned the highest improvements in the graduation rate, narrowing the gap with white students by almost one percentage point to a 10 percentage point difference. This steady improvement reflects the narrowest gap since 2011/12.

33 of 35 traditional District high schools achieved a graduation rate of 90% or higher; 17 of these schools reached a graduation rate at or above 95%.

Atlantic Technical High School and College Academy at Broward College achieved graduation rates of 100% for the third consecutive year. Sheridan Technical High School achieved a graduation rate of 100% in 2018/19.

South Broward High School achieved the largest graduation rate increase from the previous year, increasing by 5 percentage points to 94.4%.

The following high schools also made significant increases in their graduation rates from 2017/18 to 2018/19: Stranahan High School (92.6%, 4.1 percentage point increase), Cooper City High School (98.2%, 2.4 percentage point increase) and Nova High School (98%, 1.7 percentage point increase).

The graduation rate for our students with disabilities increased by more than 30 percentage points from 2011/12 to 2018/19.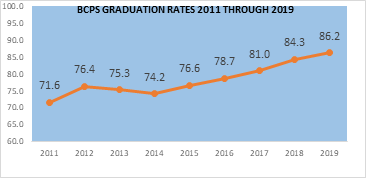 "These graduation rates are an outstanding accomplishment – the highest our District has ever achieved at 86.2%," said BCPS Superintendent Robert W. Runcie. "This reflects the hard work of our students, teachers, staff and administrators, as well as the ongoing support from our families and community. It takes everyone working together to support our students through their educational journey to ensure they complete high school and are college, career and life ready."
For more information on the state's graduation rates, visit http://www.fldoe.org/core/fileparse.php/7584/urlt/GradRates1819.pdf
###
ABOUT BROWARD COUNTY PUBLIC SCHOOLS
"Committed to educating all students to reach their highest potential."
Broward County Public Schools (BCPS) is the sixth-largest school district in the nation and the second-largest in the state of Florida. BCPS is Florida's first fully accredited school system since 1962. BCPS has more than 271,500 students and approximately 175,000 adult students in 234 schools, centers and technical colleges, and 88 charter schools. BCPS serves a diverse student population, with students representing 204 different countries and 191 different languages. Connect with BCPS: visit the website at browardschools.com, follow BCPS on Twitter @browardschools and Facebook at facebook.com/browardschools, and download the free BCPS mobile app.