Return to Headlines
BCPS Welcomes Students Back for the First Day of the 2022/23 School Year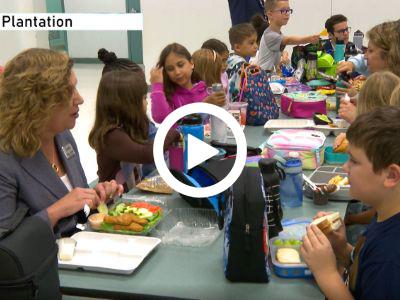 Today, August 16, 2022, marked the first day of the 2022/23 school year for more than 250,000 Broward County Public Schools (BCPS) students. Smiles, excitement and first day jitters filled hundreds of campuses across the District as students ended summer vacations and returned to classes.
BCPS Superintendent Dr. Vickie L. Cartwright began her day at the North Area Bus Terminal where she greeted school bus drivers prepared to meet more than 56,000 student riders, before boarding a school bus herself to meet students on their way to Coral Glades High School.
Superintendent Cartwright, joined by School Board members, visited several schools across the District welcoming students, teachers and staff back to school. She also joined students for a lunch break at Tropical Elementary School.
"The first day of school is always an exciting time for our students and families," said Superintendent Cartwright. "I am proud of the incredible dedication of our administrators, teachers and staff who have worked hard preparing to welcome our students back to their classrooms. Ensuring safety on our campuses remains our top priority. We want our parents and school communities to know we have safeguards in place to keep our students and staff safe."
Thanks to successful ongoing recruitment efforts and sign-on incentives, the District began the day with qualified drivers covering nearly 800 school bus routes. The District's transportation operation, which includes a fleet of 1,200 school buses, is one of the largest school-district operated fleets in the nation. All buses are equipped with GPS technology to track school bus locations and report emergencies.
Adding to the excitement of the day, Billy The Marlin, the official mascot of the Miami Marlins, joined teachers and staff at Winston Park Elementary School to welcome students back to school.
As a reminder, all schools offer free breakfast and free lunch is available for students at 167 schools as part of the Community Eligibility Provision by the U.S. Department of Agriculture. Students at schools not eligible for schoolwide free lunch may apply to receive free or reduced-priced meals by visiting browardschools.com/food-service.
To watch the first day of school news conference, visit https://www.eduvision.tv/l?ettLtDO.
To watch a video wrap-up of first day highlights, visit https://www.eduvision.tv/l?ettLtDy.
###
ABOUT BROWARD COUNTY PUBLIC SCHOOLS
"Educating all students to reach their highest potential."
Broward County Public Schools (BCPS) is the sixth-largest school district in the nation and the second largest in the state of Florida. BCPS is Florida's first fully accredited school system since 1962, serving more than 256,000 students and approximately 110,000 adult learners in 241 schools, centers and technical colleges, and 91 charter schools. BCPS supports a diverse student population representing 170 different countries and speaking 147 languages. To connect with BCPS, visit browardschools.com, follow us on Twitter @browardschools, on Facebook at facebook.com/browardschools, and download the free BCPS mobile app.