Return to Headlines
BCPS Students Get a Jump Start on Future Careers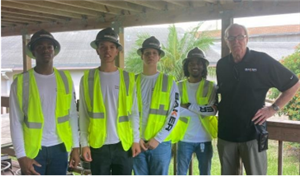 Summer 2022 is off to a productive start for Broward County Public Schools (BCPS) students and Class of 2022 graduates who participated in Career, Technical, Adult and Community Education (CTACE) programs.
More than 200 BCPS students who are part of the District's LiftOff Internship program are taking advantage of paid summer internship opportunities, which kicked off on June 20, 2022.

The LiftOff Internship program accelerates students' career exploration by connecting them with employers for real-world work experiences aligned with the students' career pathways.

The LiftOff Internship program is supported by Talent Forge, Broward's work-based learning consortium, which was developed with community partners to facilitate a streamlined workforce pipeline. Approximately 100 local business partners and BCPS departments, including Physical Plant Operations, Information Technology, BECON-TV, Food and Nutrition Services, and Early Childhood Education programs – are participating.

In addition, four Plantation High School Class of 2022 graduates (pictured above) who completed the BCPS pre-apprenticeship
program sponsored by Baker Concrete during their senior year – are now among Baker Concrete's newest employees. The four
graduates were hired by the company, which is one of the largest shell concrete companies in the U.S., to participate in its
Apprenticeship Training Program, paving the way for future career opportunities.
Through the BCPS pre-apprenticeship program, registered with the Florida Department of Education, Baker Concrete provides direct instruction to students at Plantation High School. The program is also available at Coral Springs High School and Hollywood Hills High School.

BCPS Career and Technical Education (CTE) programs prepare students for the workforce by embedding relevant and in-demand
content into middle and high school courses. Currently, BCPS offers 53 CTE pathways and more than 200 individual pathways with opportunities to earn industry certifications – the same certifications used by working professionals.

In addition to targeted industry-based proficiency, CTE programs embed a variety of tangible communication and interpersonal skills as part of the curriculum. Whether students choose to enter the workforce or pursue post-secondary education after graduation, the skills they learn will benefit them throughout their lives.

To learn more about the District's CTACE programs, visit browardschools.com/ctace.
Pictured above (left to right): Plantation High School 2022 graduates Ricardo Jones, Carl Andersen, Dean Millian and Omari
Holmes with Baker Concrete Representative Dennis Miller. The students were hired for Baker Construction's Apprenticeship
Training Program after completing the BCPS pre-apprenticeship program.

###

ABOUT BROWARD COUNTY PUBLIC SCHOOLS
"Educating all students to reach their highest potential."
Broward County Public Schools (BCPS) is the sixth-largest school district in the nation and the second largest in the state of Florida. BCPS is Florida's first fully accredited school system since 1962, serving more than 256,000 students and approximately 110,000 adult learners in 241 schools, centers and technical colleges, and 91 charter schools. BCPS supports a diverse student population representing 170 different countries and speaking 147 languages. To connect with BCPS, visit browardschools.com, follow us on Twitter @browardschools, on Facebook at facebook.com/browardschools, and download the free BCPS mobile app.