Return to Headlines
2023-24 IRMS Back to School FAQ
Back to School at the Ridge: Frequently Asked Questions
Here at Indian Ridge Middle School, we believe that parental involvement is a key factor in the success of our students. We encourage, welcome, and greatly appreciate our parents to participate at the Ridge. To achieve this goal, Indian Ridge has compiled a list of commonly asked questions and answers.
---
Q: When can I pick up my child's schedule?
A: Schedule Pick Up is on Thursday, August 17th by grade level.
6th Grade is from 1-2pm
7th Grade is from 2:15-3pm
8th Grade is from 3:15-4pm
PTO registration, Before/After Care information, and PE Uniforms will be available at Schedule Pick Up.
Students will also be provided with a copy of their schedule on the first day of school.
Q: When is the first day of school?
A: The first day of school for the 2023-2024 school year is Monday, August 21st 2023.
Q: At what time does school start and end?
A: School hours are from 9:25am-4:00pm.
Students may arrive as early as 8:45am.
Parents are kindly asked not to drop students off on school grounds prior to 8:45 am as there is NO security and NO adult supervision prior to that time.
Q: At what time do students get out on Early Release days?
A: Early Release dismissal is at 2:00pm.
Q: Is there a cut off time for signing out students early?
A: Yes, Indian Ridge Middle School has specific cut-off times for signing out your child if being picked up early from school.
3:30pm on a regular school day and 1:30pm on Early Release days.
Q: Where is the child pick-up/drop-off location?
A: The pick-up/drop-off location is past the main entrance of the school at the next light at SW 13th Street. Make a right onto SW 13th and pull into the car-line to drop off your child at the front of the school.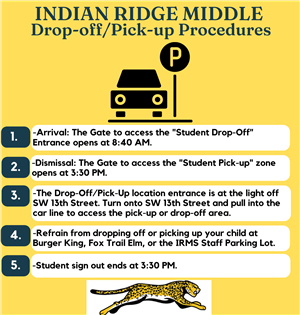 DO NOT drop off students on Nob Hill Road, the bus entrance/teacher parking lot, Fox Trail, or Burger King. Additionally, do not block traffic in the turn lanes into the school. Davie PD will assist in aiding the flow of traffic.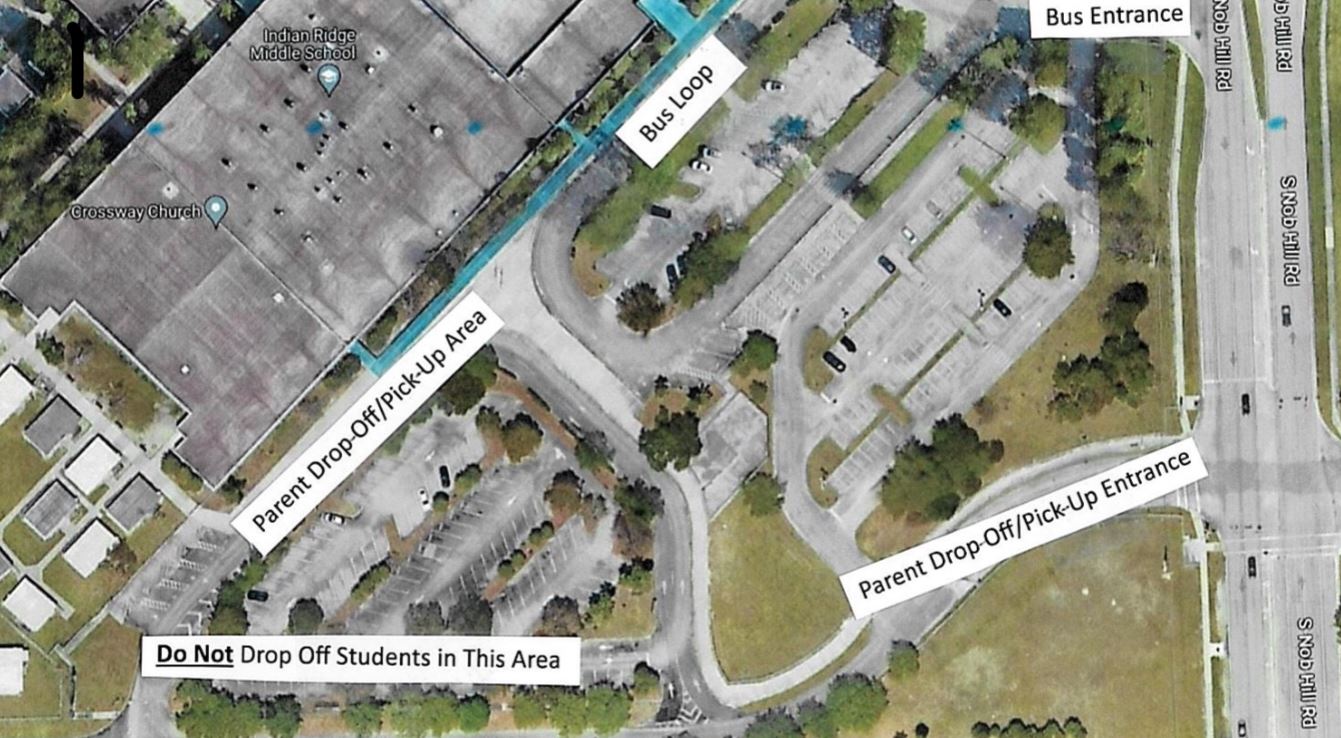 Q: What is Indian Ridge Middle School's website address?
A: https://www.browardschools.com/indianridge
Q: Does Broward County Public School offer school bus transportation services to students?
A: YES, school bus transportation services are offered and available through the BCPS Student Transportation & Fleet Services Department.
All current or eligible students using bus transportation for the upcoming 2023-2024 school year must register for a bus assignment.
www.browardschools.com/register2ride
To qualify for school bus transportation the student's residential address must be outside of a two-mile radius from school. Please allow 2-4 school days from the time of registration for bus information to appear on Virtual Counselor.
Q: Does Indian Ridge Middle School have a unified dress code?
A: YES, Indian Ridge Middle School has a unified dress code that is mandatory and enforced. Studies have shown that a unified dress code policy will promote safety, improve discipline, and enhance the learning environment. Visitors on campus will be evident, students will not compete with designer clothes, and the focus will be on academic achievement. Provisions will be made for students who, by reason of financial hardship, cannot comply with the policy. Students must come dressed in their uniform on their first day.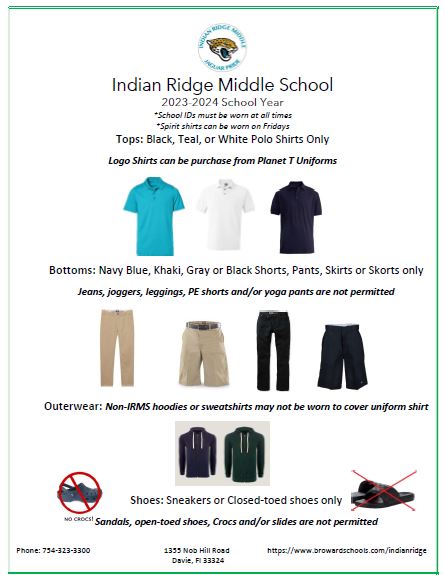 If the above image guide does not load, our Unified Dress Code Consists of the following:
Tops

COLORS: White, teal, black

Bottoms

COLORS: Khaki, black, navy, gray

Collared Polo Shirts (logo optional)
Logo Shirts can be purchased from Planet T Uniforms
NOTE: Non-IRMS hoodies or sweatshirts

may not be worn to cover uniform shirt

Trouser style pants, shorts, capris, or skorts
Secure and worn at waist
No jeans permitted
No stretch pants or shorts permitted
Additional Requirements:
Writing on uniforms is prohibited.
No sweatbands allowed.
PE shirts or shorts are

not

to be worn in place of uniforms.

Spirit shirts are permitted on Fridays only.

No sandals, slippers, slides, Crocs, or flip flops.

Closed-toed shoes must be worn at all times.
After registering yout student, you can purchase the logo polo shirts from PlanetT (planettkids.net or 954-538-0066) in Pembroke Pines, FL.
Spirit Shirts and PE Uniforms are available on IRMS PTO's webstore.
Q: Do you have lockers?
A: No, students must bring their backpacks to school every day.
Q: What is the cost for my child's lunch?
A: Free breakfast is provided for enrolled students. Lunch is available for students at a cost. The student may also bring his/her own lunch.
Q: Can I pay for student obligations (i.e. lost textbooks, field trips, yearbook, band, etc.) online?
A: Yes, student obligations can be paid online via the BCPS's E-Store Payment System. E-store may be accessed at https://estore.browardschools.com
Q: What is the Broward County Public Schools website address and phone number?
A: Broward County Public Schools website www.browardschools.com. 754-321-0000
Q: Does Indian Ridge offer Before and After Care?
A: YES, The Online Application will be available starting Monday, August 1st. Once the online application is complete, accepted and approved, there is a registration fee of $30.
Click here for the Before & After Care section of our website.
Payments will be in 10 pay periods. All payments will be made electronically on the IRMS e-store. Contact - Wade Brosz at 754-323-3321 (7am-9am or 4pm-6:30pm) or wade.brosz@browardschools.com.
Before Care - Between 7:00 a.m. – 9:00 a.m., pull into the main entrance, identify yourself to security, then drop off your child along the curb in front of the front doors. At 9:00 a.m., the program is over, and students are dismissed to the courtyard/cafeteria area where they can have breakfast and/or hang out under teacher supervision. First period begins at 9:30 a.m.
After Care – Between 4:00 p.m.-6:30 p.m, students will go directly from their 6th-period class to the cafeteria where attendance will be reconciled, and they will be served a snack.Students will have computers, games, and arts/crafts supplies available to them. It will be their discretion to complete homework, socialize with friends, and/or play games. Outdoor/gym time will also be available to them most days.
Between 4:00 p.m. and 6:30 p.m., parents or other registered/designated adults will pull into the main entrance of the school, identify themselves to security, and pull up along the curb in front of the front doors to pick up students.
Q: What are the requested school supplies? How can I obtain a school supply list?
A: Each teacher will provide students/parents with a school supply list to suit their subject needs. However, below is a list of generally recommended items to get you off to a great start:
Suggested school supplies:
Pocket folders for each subject
One 3 ring binder (1 inch, flexible)
Dividers with 3 tabs
Loose Leaf Paper (Filler Paper)
1 Composition Book-100 Pages
1 Spiral Notebook
Pens (blue, black, red)
Pencils
Pencil Sharpener
Zippered Writing Utensils Holder
Dry Erase Markers
1 Pack Colored Pencils
Crayons (24 pack)
Glue stick
Rulers
1 Highlighter
Pink Erasers
Tissues (6th Grade Only)
Copy Paper 8.5" X 11"
Flash Drive (recommended, but not required)
Index Cards (small, medium)
Calculator (7th & 8th grades)
Q: Can I access my child's grades online?
A: YES, parents can access their child's grades and attendance and can setup email alerts online through Pinnacle. Pinnacle is an easy-to-use online service that gives parents and students immediate access to view individual assignment grades, quarterly grades, attendance for each teacher and much more. Simply follow the steps below:
1. Go to Pinnacle via your student's Clever portal or directly via https://gb.browardschools.com/pinnacle/gradebook/
2. In the first field type in the student's ten digit student identification number followed by @my.browardschools.com (example:0123456789@mybrowardschools.com)
3. In the password field, type in the capital letter P followed by the student's date of birth as follows: 2 digits for the month, 2 digits for the day, and 4 digits for the year. Please make sure you type in all characters including the backslash (example: P12/31/2015). If your student has changed their password for Clever, please use their new password.
4. Click SIGN IN
Q: Can I access my child's interim reports and report cards online?
A: Yes, using Virtual Counselor. Interim Reports and Report Cards are posted on Virtual Counselor during the day listed on the BCPS calendar. Virtual Counselor is also used to access other pertinent student information such as test scores, financial obligations, academic history and much more online.
Virtual Counselor is available at https://www.browardschools.com/virtualcounselor/
Q: How can I become a volunteer?
A: All adult volunteers are asked to complete a new application for the upcoming school year at browardschools.com/volunteerapplication. Students who wish to volunteer may contact the Athletics and Student Activities department at 754-321-1201
Q: What are the ways that I as a parent can be more involved and informed?
Indian Ridge Middle School's website: https://www.browardschools.com/indianridge
PTO Website: https://irmspto.ch2v.com/index.asp?PageID=0
Join the PTO and be on our email list for timely updates on volunteer opportunities, sports, clubs, and school events!
Want to get involved? Go to the PTO website, and register using the login page. View the calendar of events to sign up for a volunteer shift. For any questions email PTO at irmspto@gmail.com.
Meetings are (usually) the third Tuesday of the month at 6:00PM in the Media Center.
Q: Does Indian Ridge Middle School offer before/after school extra-curricular activities?
A: YES, Indian Ridge Middle School offers a wide variety of before/after school extra-curricular activities including, but not limited to:
Anime Club, Debate Club, FFEA, Student Council, NJHS, STEM Club, CHOC, GSA, Dungeons & Dragons Club, First Priority, Soccer, Cross Country, Golf, Basketball, Cheerleading, Volleyball, Flag Football, and Track and Field.
Note: Practice for sports may be before or after school, but not on weekends.
Students interested in being part of a school team must submit all required paperwork, including proof of a current physical prior to trying out. Doctors' visits MUST take place after June 10th, 2023, so that there is no overlap in season/medical clearance. All forms must be submitted on the website www.registermyathlete.com and should NOT be turned into the school.
Please visit this site (www.registermyathlete.com), register your child, and upload all your completed forms. It is best to register your child for ALL sports, in the event they choose to try out for more than one sport.