Return to Headlines
Broward County Public Schools to Host in-Person College Fair - Thursday, October 27, 2022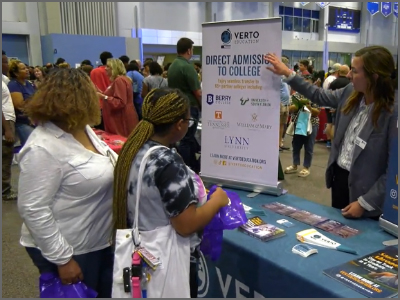 Broward County Public Schools (BCPS), in partnership with the Broward Education Foundation and Bridge2Life, will host its first in-person College Fair in three years on Thursday, October 27, 2022, from 6 – 8 p.m. at Nova Southeastern University – Rick Case Arena, Don Taft University Center, 3301 College Avenue, Fort Lauderdale, FL 33314.

The College Fair provides an excellent opportunity to explore post-secondary options and learn about financial aid and admission requirements. Students and parents will interact with representatives from more than 100 national and international, public, private, two-year, and four-year colleges and universities; technical schools; and all branches of the U.S. military.
College Fair participants can attend workshops and information sessions on college and career planning, navigating the college admissions process, and finding money for college. A counseling and resource center will offer students and parents personalized assistance and information on the SAT, ACT, Bright Futures Scholarships and more.
Financial aid advisors will offer 12th grade students and their families assistance in completing the Free Application for Federal Student Aid (FAFSA) to access federal grants, loans and work-study opportunities. Admissions representatives and high school counselors, advisors and staff will be on site to provide information and answer questions. Students with special needs can learn about programs and services at colleges and universities for students with disabilities. Interpreters will be available.
The College Fair is free and open to the public. Students, parents, families and community members are invited to attend. Registration is highly recommended at browardschools.com/collegefair. Free parking is available.
For a complete listing of colleges and universities participating in the College Fair, student registration, workshop topics, directions and more, visit browardschools.com/collegefair. For additional information, contact Carol Lopez at 754-321-2119.
###
ABOUT BROWARD COUNTY PUBLIC SCHOOLS
"Educating all students to reach their highest potential."
Broward County Public Schools (BCPS) is the sixth largest school district in the nation and the second largest in the state of Florida. BCPS is Florida's first fully accredited school system since 1962, serving more than 256,000 students and approximately 110,000 adult learners in 240 schools, centers and technical colleges, and 90 charter schools. BCPS supports a diverse student population representing 170 different countries and speaking 147 languages. To connect with BCPS, visit browardschools.com, follow us on Twitter @browardschools, on Facebook at facebook.com/browardschools, and download the free BCPS mobile app.