Return to Headlines
BCPS Launches School Pride and Peace Initiative Events Focus on Celebrating School Pride and Peaceful Learning Environments
October 7, 2021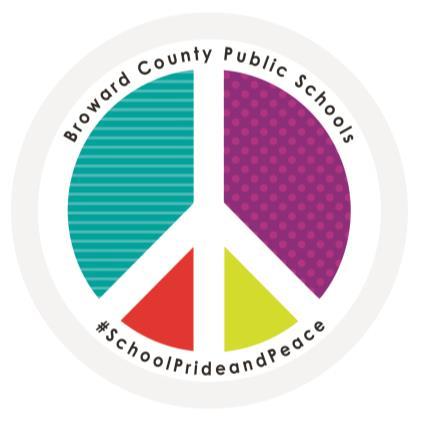 Broward County Public Schools (BCPS) is kicking off an initiative to celebrate students' school pride and reinforce a year-round commitment to maintaining peaceful learning environments for all.
School Pride and Peace Week takes place Monday, October 11 – Friday, October 15. The initiative was created in response to recent TikTok challenges, which urge students to participate in negative, potentially dangerous and criminal activities at schools and then post videos of their actions to the social media platform.
During School Pride and Peace Week, students will take part in activities that promote kindness, express positive messages and encourage responsible use of social media through the District's Think B4U Post program. Examples of activities include school assemblies, door decorating contests, making school pride banners, student volunteer activities, T-shirt decorating, and creating Peace Walls designed with cards created by students with the theme "If you could make one positive change in the world, what would it be?"
Middle and high school students are invited to enter a social media video challenge. Videos will be judged based on students' creativity and portrayal of positive messages about their schools. Students and schools will submit videos to the District's School Climate and Discipline Department for a chance to win prizes and have their videos showcased by BCPS.
Media Opportunities on Monday, October 11:
8 a.m. – BCPS Interim Superintendent Dr. Vickie L. Cartwright will visit Charles W. Flanagan High School, 12800 Taft Street, Pembroke Pines, FL 33028, to kick off School Pride and Peace Week activities.
9:40 a.m. – Silver Trail Middle School, 18300 Sheridan Street, Pembroke Pines, FL 33331. Students will participate in a variety of activities, including a Peace Pole ribbon-cutting ceremony.
School Pride and Peace Week events are taking place at schools Districtwide throughout the week. For information on additional media opportunities, contact the Office of Communications at 754-321-2300 or email bcps.pio@browardschools.com.
###
ABOUT BROWARD COUNTY PUBLIC SCHOOLS
"Committed to educating all students to reach their highest potential."
Broward County Public Schools (BCPS) is the sixth largest school district in the nation and the second largest in the state of Florida. BCPS is Florida's first fully accredited school system since 1962. BCPS has nearly 261,500 students and approximately 110,000 adult students in 241 schools, centers and technical colleges, and 93 charter schools. BCPS serves a diverse student population, with students representing 170 different countries and 147 different languages. To connect with BCPS, visit browardschools.com, follow us on Twitter @browardschools, on Facebook at facebook.com/browardschools.com and download the free BCPS mobile app.