Return to Headlines
Empowering Parents: How to Support Your Student and Your School Conference
September 18, 2019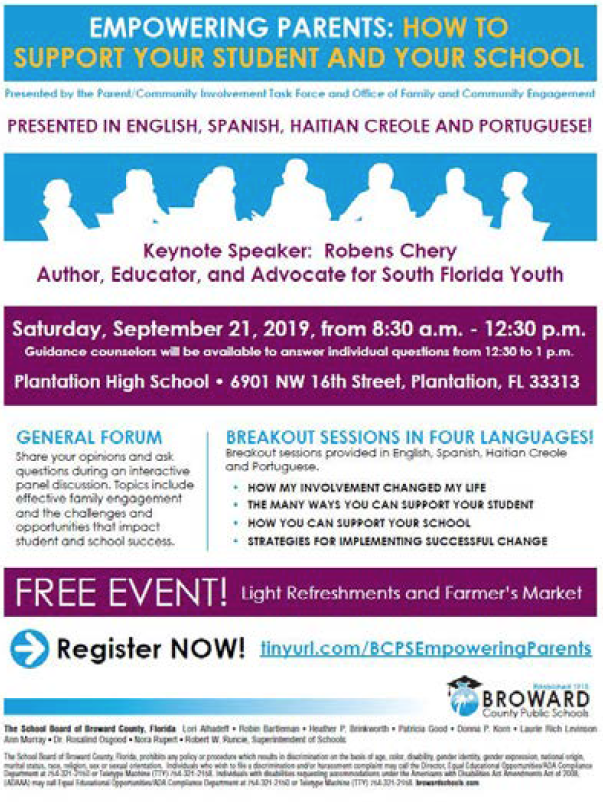 WHO:
Broward County Public Schools (BCPS) staff and community members including parents, educators, caregivers and nonprofit organizations
WHAT:
The BCPS Parent/Community Involvement Task Force, Office of Parent Engagement and the ESOL/Bilingual Department host the Empowering Parents: How to Support Your Student and Your School Conference
WHEN:
Saturday, September 21, 2019, from 8:30 a.m. – 1 p.m.
· Registration: 8:30 – 9 a.m.
· Farmer's Market: 8:30 – 9:15 a.m.
· Opening Session: 9:15 a.m.
· Breakout Sessions: 10:15 a.m. – 12:30 p.m.
Guidance Counselors will be available to answer individual questions from 12:30 to 1 p.m.
WHERE:
Plantation High School
6901 NW 16th Street,
Plantation, FL 33313
WHY:
The Empowering Parents: How to Support Your Student and Your School Conference is a free event supporting student and family success. The conference includes a general forum where families can share opinions and ask questions during an interactive panel discussion. The conference features breakout sessions presented in English, Spanish, Haitian Creole and Portuguese, and covers best practices for engaging parents and the community. Workshop topics include: How My Involvement Changed My Life, The Many Ways You Can Support Your Student, How You Can Support Your School, and Strategies for Implementing Successful Change. In addition, author, educator and youth advocate, Robens Chery will be the conference keynote speaker.
The conference is free and open to the public. Click the following link to register or call the Office of Parent Engagement at 754-321-1599, www.tinyurl.com/BCPSEmpoweringParents.
MEDIA ARE INVITED TO COVER THIS EVENT.
###
ABOUT BROWARD COUNTY PUBLIC SCHOOLS
"Committed to educating all students to reach their highest potential."
Broward County Public Schools (BCPS) is the sixth-largest school district in the nation and the second-largest in the state of Florida. BCPS is Florida's first fully accredited school system since 1962. BCPS has nearly 270,000 students and approximately 175,000 adult students in 241 schools, centers and technical colleges, and 89 charter schools. BCPS serves a diverse student population, with students representing 204 different countries and 191 different languages. To connect with BCPS, visit the website at browardschools.com, follow BCPS on Twitter @browardschools, like us on Facebook at facebook.com/browardschools and download the free BCPS mobile app.