Return to Headlines
Good evening Panthers,
We hope that eLearning is smoothing out for all parents and students. Please know that we are here to support you as we continue to navigate eLearning.
The District has also established a Technical Support line at 754-321-0569 for assistance.
**Please note that wait times may be long if you contact District Technical Support.**
IMPORTANT INFORMATION for students and parents:
eLearning for school year 2020-21 is DIFFERENT from last year.
THIS YEAR, students must be online at 8:30 everyday and follow their block schedule.
Students will sign into CANVAS AND TEAMS DAILY--this is how attendance is taken and how they will receive instruction.
Attached are handouts to assist you in the process.
Pines bell schedule for ODD/EVEN Days

Pines Semester 1 ODD/EVEN Calendar

Simple Sign on instructions for Students

Complete guide to eLearning from Parent University
It is imperative that students follow their schedule each day. Students are NOT WORKING INDEPENDENTLY--teachers are having live classes via TEAMS.
If you are in need of a device, please contact the school at 754-323-4000 for assistance. The office hours are 8:00-3:40.
Schedule change requests are submitted online via the Pines website at www.browardschools.com/pines. Go the 2020/21 Course selection under "Quick links" and follow the prompts to submit your request.
OPEN HOUSE--if you did not have an opportunity to view the Open House presentations last week, please visit the Pines website and sign in for attendance and view the teachers' links.
Let's make it a "Pantherific" 2020-21 School Year!
---
Spanish
Buenas noches Panthers,
Esperamos que el eLearning se esté suavizando para todos los padres y estudiantes. Tenga en cuenta que estamos aquí para ayudarlo mientras continuamos navegando por el aprendizaje electrónico.
El Distrito también ha establecido una línea de Soporte Técnico al 754-321-0569 para recibir asistencia.
** Tenga en cuenta que los tiempos de espera pueden ser largos si se comunica con el Soporte técnico del distrito. **
INFORMACIÓN IMPORTANTE para estudiantes y padres:
El eLearning para el año escolar 2020-21 es DIFERENTE al año pasado.
ESTE AÑO, los estudiantes deben estar en línea a las 8:30 todos los días y seguir su horario de bloque.
Los estudiantes se registrarán en CANVAS AND TEAMS DIARIAMENTE: así es como se toma la asistencia y cómo recibirán la instrucción.
Se adjuntan folletos para ayudarlo en el proceso.
Horario de la campana de Pines para días pares / impares

Pines Calendario Semestre 1 PAR / IMPARES

Instrucciones simples de inicio de sesión para estudiantes

Guía completa de eLearning de Parent University
Es imperativo que los estudiantes sigan su horario todos los días. Los estudiantes NO ESTÁN TRABAJANDO DE MANERA INDEPENDIENTE: los maestros tienen clases en vivo a través de TEAMS.
Si necesita un dispositivo, comuníquese con la escuela al 754-323-4000 para obtener ayuda. El horario de oficina es de 8: 00-3: 40.
Las solicitudes de cambio de horario se envían en línea a través del sitio web de Pines en www.browardschools.com/pines. Vaya a la selección del curso 2020/21 en "Enlaces rápidos" y siga las indicaciones para enviar su solicitud.
OPEN HOUSE: si no tuvo la oportunidad de ver las presentaciones de Open House la semana pasada, visite el sitio web de Pines, regístrese para asistir y vea los enlaces de los maestros.
¡Hagamos que sea un año escolar 2020-21 "Pantherific"!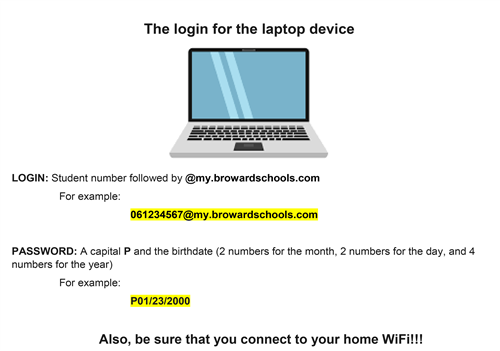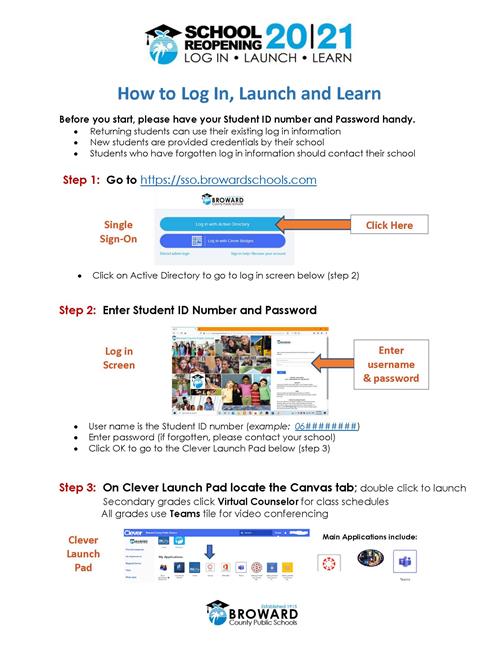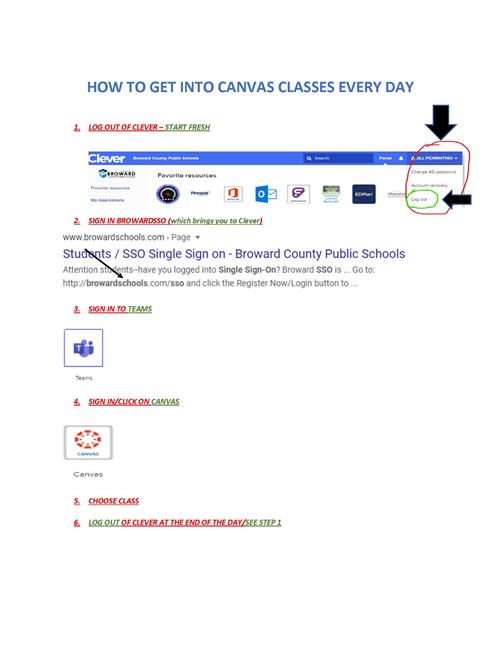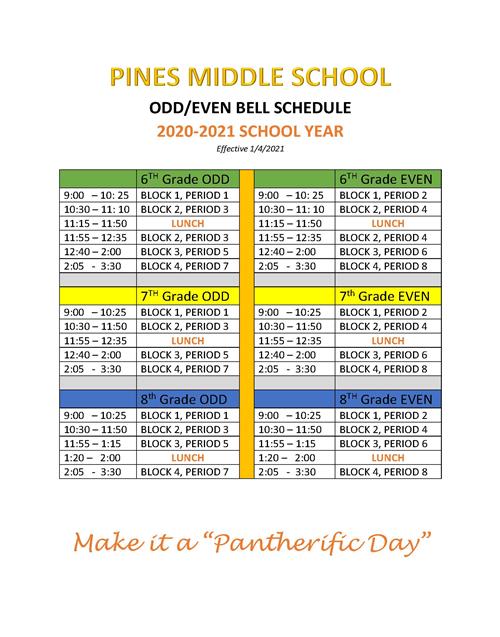 Links for Parents
E-Learning_Parent_University_2_Thursday_Secondary_Learning.pdf
Learning Never Closes
https://www.browardschools.com/learningnevercloses
Parent Information Hub
https://browardschools.instructure.com/courses/411
Canvas

Discovery Education

Hoonuit

Library Media Resources

Microsoft Office 365

NearPod

Newsela

Vocabulary.com
Signing into SSO and getting onto Canvas instructions:
https://www.browardschools.com/cms/lib/FL01803656/Centricity/Domain/13491/Distance_Learning_-_Five_Steps_to_Get_Started_FINAL.pdf -
English: https://bit.ly/33YSFaK
Spanish: https://bit.ly/2wLAJUJ
Portuguese: https://bit.ly/39rBwr6
Creole: https://bit.ly/3dGHRlK