Return to Headlines
Broward County Public School (BCPS) STOPS Violence By Empowering Students Grant-Funded Program Expanded to 33 Schools – Building Connection, Friendships and Awareness
Thanks to her involvement in the BCPS STOPS Violence program, Huguette St. Hubert, a junior at Stranahan High School, learned how to say hello.
This may not seem like a big deal, until it's placed in the context of breaking down social barriers, making connections with others who may feel alone and misunderstood, and finding ways to make other students feel included. St. Hubert was trained through the program to simply smile when approaching someone new.
"I learned how to recognize when someone is feeling lonely because a person can feel lonely when they're around others, as well," said St. Hubert, who is also a youth mental health ambassador. "This what the program does – it teaches you how these things can make a huge difference in your school's environment and in your community."
Eliminating isolation, increasing empowerment one student at a time
Broward STOPS Violence stands for Broward Schools, Teachers, Organizations, Parents, and Students against Violence. In 2020, 17 additional schools were participating in the program, which gained real traction at Stranahan, Hallandale, and Deerfield Beach High Schools, as well as Gulfstream Academy of Hallandale Beach K-8. These schools joined 16 others that participated during the 2018-19 school year. Looking forward into 2021, 20 more schools anticipate adopting the program.
Judy Bremner, program grants facilitator, and Phillip Shaver, Student Services Department leadership team member, credit the program for giving students an opportunity to be part of creating safe, inclusive school cultures. If they suspected any kind of unusual behavior or feared a classmate might have been struggling with emotionally, students could anonymously share the information via secure apps – SaferWatch, which is monitored by Broward Sheriffs' Office, or Fortify FL, which reports information to school officials and appropriate law enforcement.
"This was another level of preventative measure," said Shaver. "When we evaluated these programs, we considered, 'Who is this going to harm if we do this?' and 'Who is this going to harm if we don't?' With this program in place, BCPS and our partners have been able to save students from harming themselves or others."
According to a report on NBC 6, in 2019, SaferWatch collected 325 total tips, 10 incidents of bullying, three suicide threats, and 11 school threats that led to five arrests. FortifyFL reported 634 tips to BCPS including 40 threats against schools, 21 bullying tips, three potential suicide tips, and one report of sexual harassment.
How and why does the program work?
Broward STOPS Violence is a program that is comprised of three major components: "Start with Hello"; "Say Something"; and "SAVE Promise Clubs." Broward Schools has partnered with Sandy Hook Promise to deliver the "Start with Hello" and "Say Something" curricula.
"Start with Hello" teaches students to be more socially inclusive and connected to each other. It empowers students to end social isolation by teaching them three easy steps:
See Someone Alone: how to recognize the signs of loneliness and social isolation;
Reach Out and Help: teaches students what they can do to help others feel included; and
Start with Hello: teaches students how to break the ice and strike up a conversation. The overarching goal is to create a culture of inclusion in the school.
"I'm starting to know more people around the school; I've become more friendly because I realize that people feel unsafe in the school environment. I want to be there for them if they have a question about things that are going on around the school. I want to be open to everyone. I feel very empowered to be in such a program because it's really making a lot of progress," said St. Hubert.
The second program, "Say Something," teaches students to look for warning signs and threats, (especially on social media), and report this information to a trusted adult or anonymously through the SaferWatch or Fortify FL apps.
In a comprehensive study of school shootings from 1974 to 2000, conducted by the Secret Service and the Department of Education, 94 percent of school shooters planned the attack in advance. They often gave verbal, physical, and virtual signs that they were planning and plotting to harm others. This program reinforces three steps:
Recognize warning signs and threats: Students learn about different types of warning signs or threats and where they are likely to see them;

Act immediately; take it seriously: Students are given strategies to take action and overcome potential barriers to being an "upstander," rather than a "bystander";

Say Something: Student learn to intervene when they see warning signs and threats by telling a trusted adult or using an anonymous reporting system.
Helping students and teachers SAVE their school cultures
"The messages taught through 'Start with Hello' and 'Say Something' are sustained through the establishment of SAVE Promise Clubs. SAVE stands for Students Against Violence Everywhere. SAVE Promise Clubs are established and led by students and are a powerful approach to preventing violence and victimization because they recognize the unique role that young people play in making their communities safer," Bremner said.
Editorial note: As of March 2020, Broward County Public Schools converted to online learning in response to orders given to help mitigate the spread of COVID-19. The Broward STOPS Violence program will resume when schools are allowed to re-open with permission from state governance.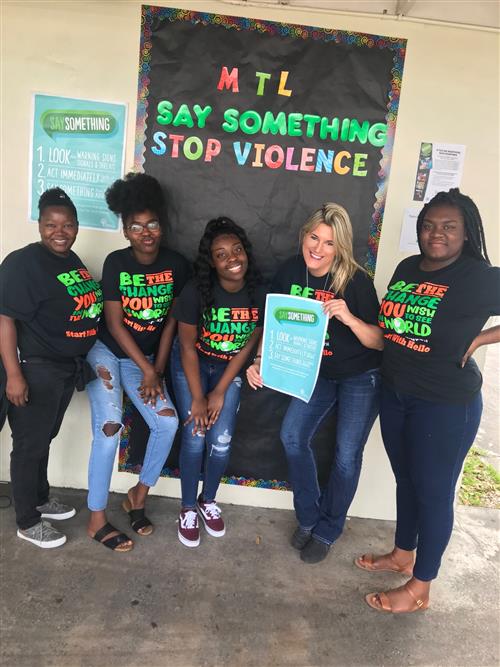 Photo Caption: Many students acted as mentors to their peers, as can be seen at Stranahan High School, where students from the SAVE Promise Club taught their peers the "Start With Hello" curriculum. Students also set up a selfie station, (pictured) where they encouraged their peers to take a selfie and post it on their social media using the #savepromiseclub. Because this January 2020 event was so successful, Stranahan hosted an outreach in February for community members and parents. On Feb. 20, Deerfield Beach High School's SAVE Club held a breakfast for local first responders.
Social media tags: Students at 33 Broward schools created the culture they wanted through Broward STOPS Violence #bcpsmentalhealth #empowerment #inclusive
It all started with "hello." Making all students feel safe meant making all students feel seen through Broward STOPS Violence.
Students were trained to help each other through tough times … with selfies, smiles and local law enforcement… and it worked. #bcpsmentalhealth #empowerment #inclusive