Return to Headlines
BCPS Cares for its Student Athletes – INSIDE & OUT
BCPS Hosts Health Elevation Event to Connect Students to Healthy Eating, Meditation, Breathing Techniques and Mental Health Awareness
Playing sports is a crucial part of growing up. Sports provide exercise, which keeps young people healthy and establishes good habits for an active life, and hones life skills, like teamwork and discipline. Participating in sports builds self-esteem and teaches lessons like the inevitability of failure, the value of sportsmanship, and the importance of skill and substance over appearance. But, it seems, teen athletes and even school sports heroes, may be suffering in silence where their mental health is concerned.
In schools, athletes are admired, even revered, but they are no different than any other student and can be struggling with mental health issues that are even harder for them to share because of their position in the school.
"You see these big guys walking the hallways and you just know they're football players," said School Social Worker Nadette Noel. "But anybody can be struggling."
Getting Broward Students to Open Up
Noel knows this all too well. On December 26, a neighboring school lost a student athlete to suicide – one of three suicides of young people in the area. The young man had a bright future ahead of him; he was slated to attend Georgia Tech starting on January 6, 2020. The young man's fellow students were left reeling from the shock of his death. The community struggled to understand what had happened. Noel knew something more had to be done. She feels uniquely positioned to approach student athletes at Boyd Anderson High School in Broward County Public Schools, where she works.
"I'm a crazy football fan and I have a giant football hanging in my office,' she said. "I know and enjoy the game and I can talk stats and teams; the students love that."
Striving for excellence as an athlete comes with a lot of pressure and high expectations. Setbacks and injuries can be devastating. Many believe student athletes should automatically be happy because of their prowess and popularity, but that happiness is often elusive. Noel started asking random students visiting her office to do a quick survey, asking them to answer a 'moods and feelings' questionnaire. Two of the 10 teens reported suicidal ideation, but had never mentioned it to anyone. Another three were experiencing symptoms of depression, but felt they couldn't open up.
"Knowing that everything is confidential made it easier for them to talk to me," said Noel. "These big men on campus don't look sad, but when you get 50 percent of the students you randomly talk to having issues, that just has to be addressed."
Noel contacted her colleagues about planning an event especially for student athletes. She wanted to get them some practical tools to help them cope.
Physical Injuries Can Lead to Brain and Mental Health Damage
Noel explains that Boyd Anderson High School is diverse with a large percentage of Creole speakers and a significant number of Spanish speakers, as well as students from Jamaica and Haiti.
"We have to remove the stigma from talking about mental health," said Noel. "Especially when working with students from cultures where it's not often or openly discussed. Talking to our students using the context of sports can be very helpful. It's a great way in because they're so passionate about it."
Body and brain health are tightly intertwined. Recently, CTE, or Chronic Traumatic Encephalopathy, has been in the news. CTE is a type of brain injury caused by repeated blows to the head or a single severe concussion. Statistics show that brain disease is found in 87 percent of former football players, while 110 of 111 deceased NFL players showed signs of the condition. It's most often seen in athletes who participate in contact sports—such as football, hockey, boxing, or soccer—as well as in combat veterans. There are 3.8 million sports-related concussions reported in America every year, with football players making up most of those injured.
Sports injuries carry another insidious threat. Athletes are at higher risk of becoming addicted to pharmaceutical drugs that numb pain and allow them to continue to play. This form of abuse begins as early as high school and increases in college.
'Heath Elevation' event Offers Hacks to Physical and Mental Well-being
With Broward County Public Schools focused on the 'whole student', the aim is to facilitate all aspects of healthy human development: body, mind, and spirit. Noel and her collaegues decided to hold a health elevation event focused on healing the brain naturally and enhancing overall wellbeing using different science and experience-backed methods.
This event was provided through a unique partnership between Boyd Anderson, Dale Sports, and Sentient Wellness, which works with dedicated athletes from professionals and high school students to parents and even little leaguers. The event was held February 1, 2020, and was opened to all students with community service hours offered as an incentive. Science and Physical Education students also got extra credit for attending. Parent Link, the school district's technology-based mass communication tool, was used to effectively communicate the event to families in three languages (English, Spanish, and Creole).
Eighty event participants learned different techniques of meditation and breath work that has been shown to stimulate and redirect energy to the brain, regenerating and restoring the cells and tissues of the nervous system. There were also segments on nutrition and 'intuitive eating' – listening to your body's messages to become more in tune with what it wants and needs to function at its best. Attendees were encouraged to find a balance between maintaining healthy eating for performance, while still enjoying their favorite foods. The focus then switched to mental health and healthy behaviors.
One student shared that he feared he was becoming a bully. He was feeling helpless about a tough situation at home and was taking it out on others.
More Help is On the Way
"I was blown away by the audience's behavior at the event," said Noel. "They sat riveted to the presentations. They all did the exercises. There was no laughing, no cellphones going off…that's when you know you've made a connection with your students."
The evening ended with a vegan/vegetarian meal that allowed students and event hosts to mingle. Many discussed how enlightened they felt after being exposed to new ideas about healing their own bodies and releasing trauma.
"Even if they aren't struggling themselves, we're a community at this school," said Noel. "I tell them: 'You could help save somebody else's life by paying attention to your fellow teammates' words and behaviors.'"
The school hopes to host the event again in April 2020.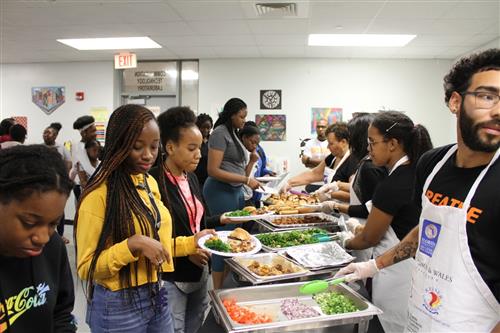 Photo Caption:
Students athletes and those interested in Science and Physical Education attended a Health Elevation event at Boyd Anderson High School where they learned about meditation, breathing techniques that oxygenate the brain and re-focuses energy on healing, and discussed mental health and how it intersects with sports performance. The evening ended with a delicious vegetation meal.
Social media tags:
Student athletes at Boyd Anderson High School focus on mental health in sports and handling pressure with good eating, meditation, and breathing for peak performance #bcpsmentalhealth #sportshealth #bodyandmind
Student Athletes met at Boyd Anderson high School to learn about mental health for young sportspeople. The event included a delicious vegetarian meal #bcpsmentalhealth #trysomethingnew
Health Elevation event helps student athletes make the connection between mind and body health for student athletes #bcpsmentalhealth #healthelevation