Return to Headlines
Westglades eLearning Support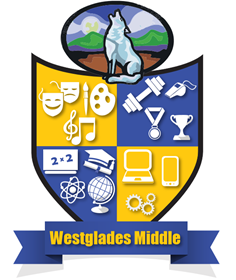 Getting Ready for eLearning at Westglades
First Day at Westglades eLearning Video https://bit.ly/3iGHDNn
Westglades eLearning Orientation https://bit.ly/30Y8i2h
Eight Steps to Get Ready for eLearning https://bit.ly/340lmpt
eLearning Tips for Westglades Students https://youtu.be/7bXWJK-w70A
Daily Bell Schedule http://ow.ly/PKcG50BfVaF
PHASE 2 eLearning FACTS http://ow.ly/jrfq50BRfka
Getting Schedules from Virtual Counselor for Students
Getting Your Student's Schedule https://bit.ly/2XY3nMA
SSO Clever Help for Students

Logging in to Clever https://bit.ly/33XTzWX
Step by Step Clever Sign-on https://bit.ly/30WAOBq
Microsoft Teams Help for Students

Teams Tutorial for Students https://youtu.be/ex0Vx6jSvl4
Teams Videoconferencing in Canvas https://bit.ly/340VOsG
Submitting Assignments on Canvas https://bit.ly/3h9al9j
Netiquette for Students

Email Netiquette for Students https://bit.ly/3gXxyv0
Middle School Textbooks

Access Middle School Textbooks https://bit.ly/30TqfyU
Canvas App Help for Parents
Parent Canvas App iOS https://bit.ly/2PSMDSQ
Parent Canvas App Android https://bit.ly/3fTd4Cp
Parent Canvas App Features https://bit.ly/3fUcc0k
Español- https://bit.ly/3anauDz
Haitian-Kreyol- https://bit.ly/3iIT8nE
Portuguese- https://bit.ly/2PP4Mkp
Clever Help for Parents

Logging into Clever for Parents https://bit.ly/3kDSOZ3
Mental Help Resources
BCPS Recovery Resources https://bit.ly/34017by
Internet Access
The School District has negotiated low-cost offers for Internet access during eLearning thru Access from AT & T and Internet Essentials from Comcast.
Virtual Call Center
Please call Westglades directly for support (754)322-4800.
Ask BRIA
The district-wide evening academic assistance is scheduled to begin Wednesday, September 2, 2020. This service will be provided Monday through Thursday from 3:00 p.m. to 8:00 p.m. Students will find a link in their Canvas courses to "Ask BRIA" (Broward Remote Instructional Assistance). By clicking on that link, they will be guided to a live Teams session with a certified teacher to receive academic support.