Return to Headlines
Coral Springs High School Air Force JROTC Receives USAF Distinguished Unit Merit Award
May 28, 2020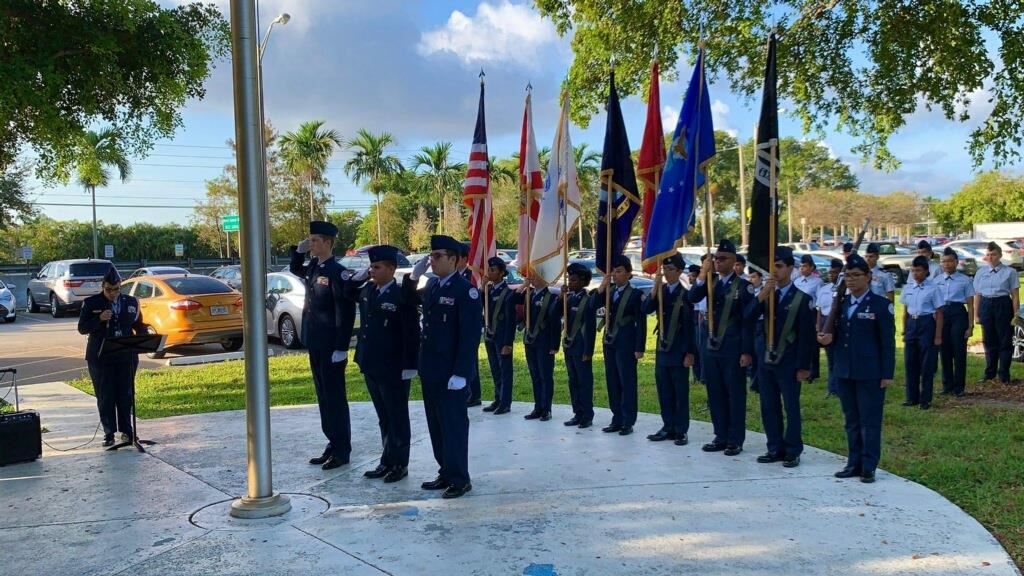 Congratulations to Coral Springs High School Air Force JROTC Unit for being honored with the 2019/20 U.S. Airforce JROTC Distinguished Unit with Merit Award. There are 890 Air Force JROTC units in high schools across the United States and at selected schools in Europe, the Pacific and Puerto Rico. Coral Springs High is one of only 79 units achieving this recognition, placing its program in the top 10% in the nation.
The award recognizes Air Force JROTC units have performed above and beyond normal expectations and have distinguished themselves through outstanding service to their school and community while meeting the Air Force JROTC citizen development mission for America.
USAF Colonel Stephen Sanders wrote in a congratulatory letter, "The award recognizes the personal growth and accomplishments of the cadets, contributions of the instructors as mentors and the support of the school and local community." Sanders added, units receiving "the Distinguished Unit Award with Merit are limited to the very best of the best of our nation's 890 Air Force JROTC units."
The objectives of the Air Force JROTC program are to educate and train high school cadets in citizenship and life skills; promote community service; instill responsibility, character, and self-discipline through character education; and provide instruction in air and space fundamentals.
Broward County Public Schools is home to the largest JROTC program in the country, which includes nearly 7,000 cadets in 30 high schools and eight middle schools. In addition, District JROTC cadets continually earn state championship titles and received more than $25 million in scholarships for colleges, universities and military academies last year. The JROTC programs have a 99% graduation rate.
###
ABOUT BROWARD COUNTY PUBLIC SCHOOLS
"Committed to educating all students to reach their highest potential."
Broward County Public Schools (BCPS) is the sixth-largest school district in the nation and the second-largest in the state of Florida. BCPS is Florida's first fully accredited school system since 1962. BCPS has nearly 270,000 students and approximately 175,000 adult students in 241 schools, centers and technical colleges, and 89 charter schools. BCPS serves a diverse student population, with students representing 204 different countries and 191 different languages. To connect with BCPS, visit browardschools.com, follow us on Twitter @browardschools, on Facebook at facebook.com/browardschools.com and download the free BCPS app.